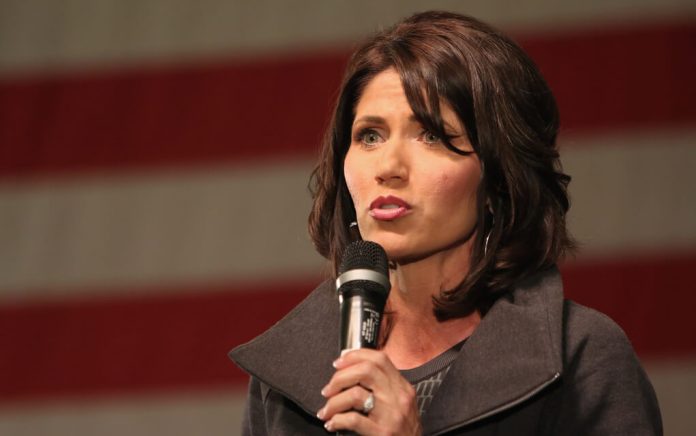 (StraightNews.org) — South Dakota Governor Kristi Noem said she is not ruling out a bid for the White House. Noem is a Republican rising star and is credited with keeping her state flourishing while much of the country faces economic instability. Unemployment, for example, is running at around 3.5% in much of America, while it is down to 1.9% in South Dakota.
"South Dakota has the lowest unemployment rate in America, but we still have workforce challenges to address," Noem said as she launched her latest initiative to get people into work. Her administration invested almost $8 million in an apprenticeship program in mid-April.
A staunch Trump supporter, she enacted some of the most relaxed pandemic responses in the nation. In 2021, she took a swipe at fellow Republicans for claiming they had kept their states open during the pandemic, while saying she "hates" the America that Joe Biden is creating. When Trump was indicted by Manhattan District Attorney Alvin Bragg, Noem was one of his fiercest defenders. She called on Congress to take action to have Mr. Bragg disbarred because it was clear to her that he was abusing his office for political ends. "We can't allow these prosecutors, DAs, state's attorneys to go forward and just to make up what our criminal justice system is anymore," she said.
When asked if she is considering a run at the White House in 2024, she said, "I'm super focused here in South Dakota. But I'll tell you, this country cannot afford four more years of Joe Biden. We need new leadership and leadership that loves this country — not one that is clearly not healthy."
Noem was convincingly re-elected to the Governor's office last November and immediately lashed out at fellow Governor Ron DeSantis saying his abortion laws were too lenient. At a conference of conservatives last year, she was attendees' second choice for President behind Ron DeSantis in a hypothetical race that did not include President Trump.
Copyright 2023, StraightNews.org