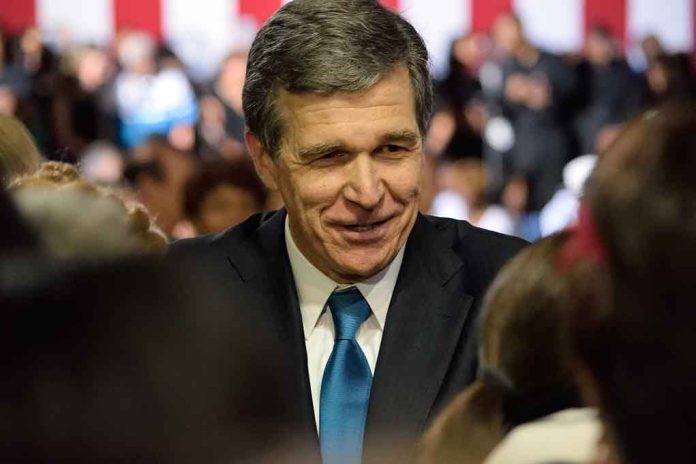 (StraightNews.org) — The Democratic Governor of North Carolina vetoed a bill passed by GOP-led state legislatures. The new law places a 12-week limit on abortion. Governor Roy Cooper announced his veto at a rally outside Capitol buildings on May 13th.
"If just one Republican in either the House or the Senate keeps a campaign promise to protect women's reproductive health, we can stop this ban," Cooper said.
The bill was passed along party lines in April while crowds stormed the state Capitol chanting "shame." During the heated debate, Republican Sen. Joyce Krawiec said the GOP was using the opportunity to take a pro-woman and pro-life position. "This is a pro-life plan, not an abortion ban," she said.
Democratic Sen. Sydney Batch said North Carolina had gone backward and denied women the right to make healthcare choices.
Whatever the feelings were for Democrats in the statehouse, the victory was short-lived, as the GOP-heavy legislature overrode Cooper's veto, which means the bill now becomes law.
The arguments have been repeated nationwide as states legislate on the divisive issue following the Supreme Court decision to overturn Roe v Wade in 2022. Several GOP-led states have legislated to ban or severely limit abortion, while Democrat-led states have done the opposite and introduced bills to ensure access to the procedure.
Meanwhile, North Carolina Lt. Gov. Mark Robinson launches his campaign to replace Governor Cooper and end "wokeness" in the Tar Heel State. Speaking at a rally in Alamance County, Robinson said politicians in Washington, DC, are squandering the taxpayer dollars American people work hard for.
He also said that according to some narratives, he was "supposed to be crushed by racism," but he has not experienced this and has risen from poverty and lack of advantage to become the first black Lt. Gov. of North Carolina. He told his audience that anything is possible with hard work and commitment, and it is Republican policy that allows this ideal to become a reality.
Democratic attorney general, Josh Stein, announced his bid for the Governor's mansion in January. Republican state treasurer Dale Folwell is also in the race.
Copyright 2023, StraightNews.org