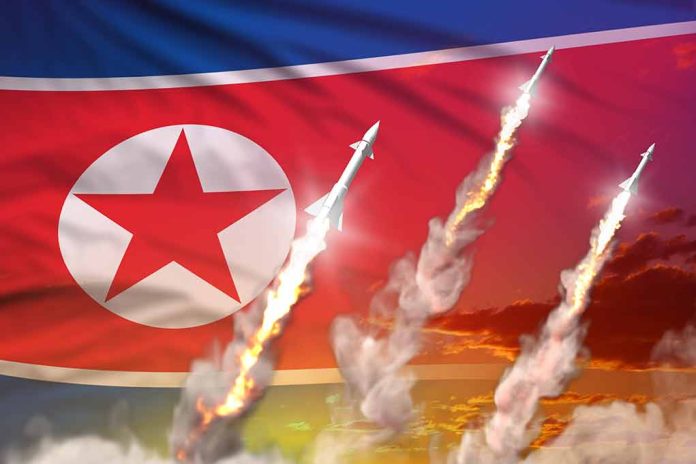 (StraightNews.org) – North Korean dictator Kim Jong Un has sharply increased the secretive nation's missile production amid concerns that the country is arming Russia. The despot has been touring North Korean munitions factories and has ordered a manufacturing increase. The workshops toured by Kim specifically produce tactical missiles, mobile launch platforms, armored vehicles, and artillery shells, according to the Korean Central News Agency.
A press release by the News Agency quoted Kim Jong Un in what appears to be a hint toward future hostilities involving North Korea. "The qualitative level of war preparations depends on the development of the munitions industry," he said.
Since the departure of Donald Trump from the White House, the stability President Trump achieved has crumbled and North Korea is once again speaking in aggressive terms to the West. It has also conducted over 100 missile tests to warn the United States and South Korea of its military power.
The US and South Korea have strengthened ties in recent years and announced new joint military exercises at a press event in the South Korean capital Seoul on August 14. The two sides will participate in live field maneuvers, computer simulation-based command post exercises, and related civil defense drills throughout the summer. The exercises will include the US Space Force for the first time.
US military spokesman Col. Isaac L. Taylor said, "You have the space component, you have the land component, air, sea, cyber and cognitive domains." He added that there is total transparency in the operations.
As South Korea deepens ties with America, North Korea does the same with Russia. The dictator met Russian President Vladimir Putin in 2019, and the pair have maintained good relations. In March, White House national security council spokesman John Kirby warned Russia was buying arms from Kim for its war with Ukraine. "We also understand that Russia is seeking to send a delegation to North Korea and that Russia is offering North Korea food in exchange for munitions," Kirby said.
Copyright 2023, StraightNews.org