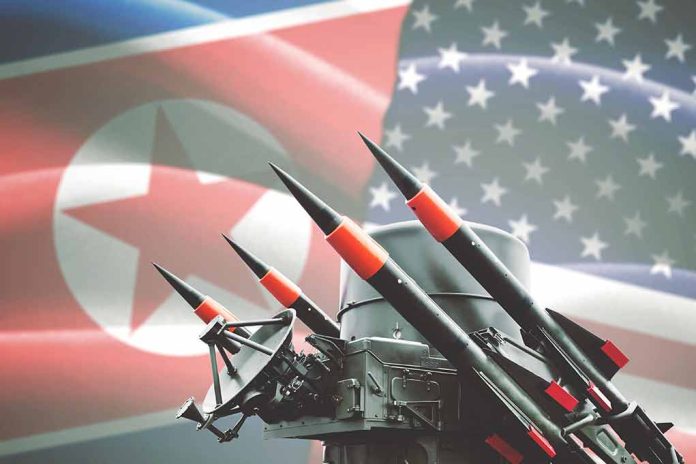 (StraightNews.org) – North Korea is threatening to use deadly force against US aircraft. The secretive communist state is accusing America of violating its airspace by deploying surveillance devices in its skies and warned that it has shown restraint but is running out of patience. A government spokesperson said, "There is no guarantee that such a shocking accident as the downing of the US Air Force strategic reconnaissance plane will not happen."
The Pentagon dismissed the accusations and said it adhered to international law. US State Department spokesperson Matthew Miller said North Korea should cease its provocations and "refrain from escalatory actions." He added that America is open to discussions with North Korea but Pyongyang refuses to engage.
North Korea is a regular critic of the United States, often increasing its hostile rhetoric and directly threatening to attack America. At a Korean War memorial event in 2022, Kim Jong-Un, the country's leader, said he was willing to use nuclear weapons against the US and was "fully ready for any military confrontation."
Relations between the two countries have been strained since the Korean War when America intervened on the side of South Korea. The war ended with a truce, although Kim Jong-Un considers it a North Korean victory, and the country celebrates that victory every year.
In 2018, Donald Trump made history when he became the first US President ever to meet a North Korean leader. The two met in Singapore and agreed to a new relationship that included safety guarantees for North Korea and the denuclearization of the Korean Peninsula.
Relations have deteriorated under the Biden administration to the point where threats of attack have re-emerged. Kim Yo Jong, the sister of Kim Jong-Un and his potential successor, accused the US of "extreme hostility" in April and even described President Biden as "senile." She added that South Korean leader Yoon Suk Yeol is a "fool" for maintaining a positive relationship with the peninsula's "most hostile adversary."
Copyright 2023, StraightNews.org