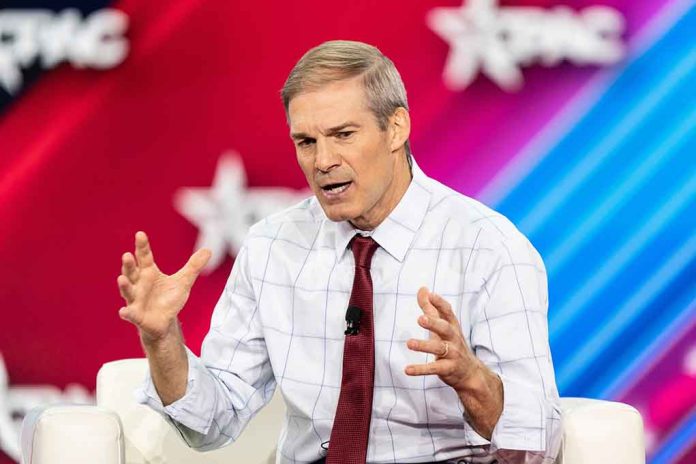 (StraightNews.org) — A hearing in New York, organized by Trump ally Jim Jordan (R-OH), has ended. The Victims of Violent Crime in Manhattan hearing was held in the New York borough in response to the indictment of Mr. Trump by Democratic District Attorney Alvin Bragg. Republicans accuse Mr. Bragg of ignoring crimes committed against everyday citizens while utilizing his energy to persecute President Trump for political reasons. Bragg charged Mr. Trump on 34 felony counts concerning alleged hush payments made to an adult film star before the 2016 election. The actress said she had had an affair with Trump.
The hearing brought together witnesses to testify that Manhattan had suffered from increased crime since Bragg entered office. Witnesses included Madeline Brame, who said the District Attorney's office had treated her family "like garbage" following the murder of her son, Army Sgt. Hason Correa. She now leads the city's Victims Rights Reform Council.
The father of the victim of a brutal antisemitic attack also testified. He said the District Attorney's office delayed justice for his son, which offered a "sweetheart deal" to one of the assailants.
Rep. Jerry Nadler, whose district includes Manhattan, said the GOP was attempting to weaken the DA's office. "We're here today in Lower Manhattan for one reason and one reason only: The chairman is doing the bidding for Donald Trump," Nadler said.
District Attorney Bragg expressed similar sentiments and argued that Republicans were attempting to interfere with the prosecution of Donald Trump with an "unprecedented campaign of harassment and intimidation."
Rep. Wesley Hunt (R-Texas) in turn accused Bragg of being "woke" and working in the interest of a far-left, soft-on-crime agenda.
Alvin Bragg has come under intense scrutiny by Republicans since Trump was indicted. Press reports reveal that as soon as the Democrat entered office, he issued a memo to staff indicating that petty crimes such as turnstile-jumping would no longer be prosecuted. The New York Post said Bragg has downgraded more than 50% of felony cases to misdemeanors.
Copyright 2023, StraightNews.org