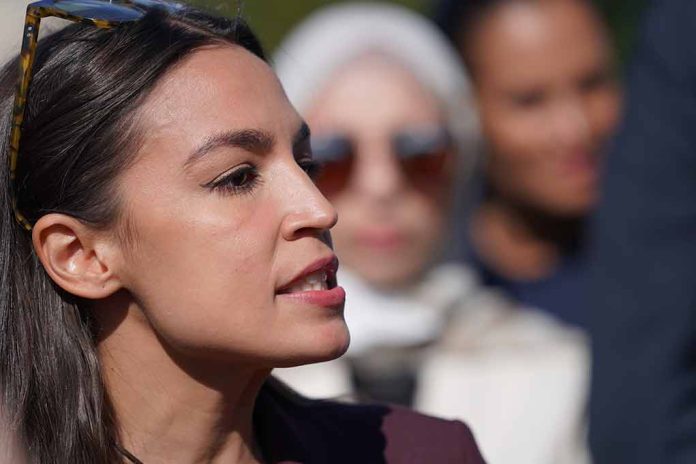 (StraightNews.org) – Democratic New York Rep. Alexandria Ocasio-Cortez is joining with colleagues in a controversial boycott of an upcoming Congressional address by Indian Prime Minister Narendra Modi. In a Twitter post, the Rep. said she would not attend to hear the Prime Minister's speech because he is guilty of religious persecution and opposition to a free press.
"A joint address is among the most prestigious invitations and honors the United States Congress can extend. We should not do so for individuals with deeply troubling human rights records," she wrote.
Two Muslim colleagues, Ilhan Omar, and Rashida Tlaib, also said they would boycott Modi's speech. Tlaib accused Mr. Modi of a long history of anti-democratic behavior, religious persecution, and imposing censorship on reporters. Meanwhile, Ilhan Omar said, "Modi's government has repressed religious minorities, emboldened violent Hindu nationalist groups, and targeted journalists/human rights advocates with impunity."
In April, the United States Commission on International Religious Freedom (USCIRF) urged the State Department to classify India as a nation of concern regarding freedom of religion and worship. In its annual report, USCIRF called for 15 countries to be considered especially worrying due to their engagement in, or toleration of, "systematic, ongoing, and egregious violations."
The other countries named were Burma, China, Eritrea, Iran, North Korea, Pakistan, Vietnam, Saudi Arabia, Tajikistan, Turkmenistan, Afghanistan, Nigeria, Syria, and Russia. The panel also recommended that 12 separate countries be placed on the State Department's Special Watch List. These were Algeria, Cuba, Nicaragua, Azerbaijan, the Central African Republic, Egypt, Indonesia, Iraq, Kazakhstan, Malaysia, Turkey, and Uzbekistan.
USCIRF Chair Nadine Maenza said the group was disheartened to see a deterioration in religious freedoms in several countries, including in Afghanistan where the Islamist Taliban has crushed numerous fundamental rights since coming to power in the aftermath of the US withdrawal from the country.
The USCIRF report furthermore highlighted moves already made by the US government, including increasing its attention to human rights abuses in Russia and China.
Copyright 2023, StraightNews.org