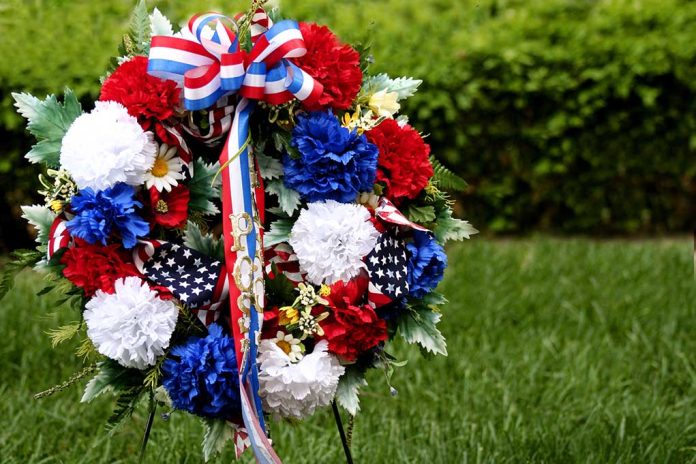 (StraightNews.org) – Clark County commissioners have unveiled a memorial for the victims of the mass shooting in Las Vegas in 2017. The permanent structure features 58 candle-like beams in remembrance of the 58 people who died when a gunman opened fire on the crowd attending the Route 91 Harvest Music Festival on the famous Las Vegas strip on October 1, 2017.
Nevada man Stephen Paddock, a retired postal service worker, took a room on the 32nd floor of the iconic Mandalay Bay hotel on the strip, from where he used an arsenal of weaponry to kill dozens and injure hundreds. He would later turn a gun on himself.
Two years after the atrocity, a committee was organized to design and create a memorial. That committee dissolved on September 5, having completed its work. Local firm JCJ Architecture was central to the concept that will see a park in the shape of an infinity symbol with 22,000 lights representing the number of concert-goers. A path will take visitors through a garden to a 58-foot-high tower of light surrounded by the 58 candle beams – each carrying the name of a victim.
Clark County Commission Chairman Jim Gibson said, "We are grateful to the design teams, family members, survivors and everyone who participated in this process to create a memorial to remember the events of October 1."
The Las Vegas shooting was the deadliest single incident of its kind in US history. Paddock's motive remains unclear despite much investigation. The FBI said the killer did not appear to be driven by one specific grievance, but he was a prolific gambler who confided in an unnamed fellow casino enthusiast that he was upset at the way some of the iconic strip's casinos treated high-stakes players.
He was banned from three venues in Nevada and Reno and reportedly believed Mandalay Bay was one of the worst offenders for mistreatment of gamblers. He is said to have spent up to 18 hours per day touring the strip's casinos.
Copyright 2023, StraightNews.org