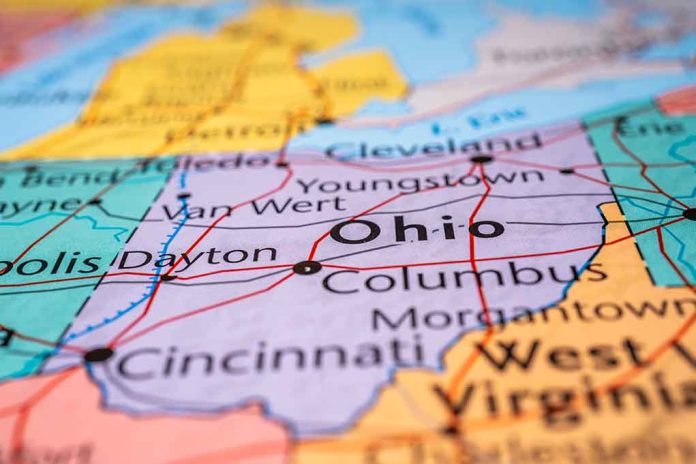 (StraightNews.org) — The State of Ohio has filed a lawsuit against Norfolk Southern to ensure it funds the clean-up of the small town of East Palestine where a train derailment occurred in early February. Attorney General David Yost announced the lawsuit on March 14th and said, "The fallout of this highly preventable accident is going to reverberate in Ohio and for Ohioans for many years to come. The company has repeatedly said they want to make it right. Our lawsuit is designed to make sure they keep their promise."
Norfolk Southern, whose train derailed in the town of East Palestine, responded by stating it has listened to the concerns of local residents and has met with Mr. Yost to examine ways in which the company can mitigate the damage caused. The lawsuit claims that over 1 million gallons of hazardous material released toxic chemicals into the air. It is not fully understood how much harm the toxins could inflict long term. The suit further requests that the train company provides funding for environmental monitoring and reimburses the state for the costs associated with emergency responses. The National Transportation Safety Board has called the incident "100% preventable."
It is not known exactly how much the rail company will need to pay out as locals express trepidation about potential healthcare costs, property values, and livelihoods. Norfolk Southern CEO Alan Shaw has apologized for the incident and so far offered $20 million in compensation.
The train derailed on February 3rd and its contents were intentionally burned to avoid an uncontrolled explosion. Government officials have said there are no signs of water or air contamination so far.
The federal government, including Transport Secretary Pete Buttigieg and President Biden, have been widely criticized for their lack of response to the disaster. Former President Donald Trump visited the area and sarcastically asked President Biden if there would be any money left for Ohio after he'd written a blank check for Ukraine.
Copyright 2023, StraightNews.org