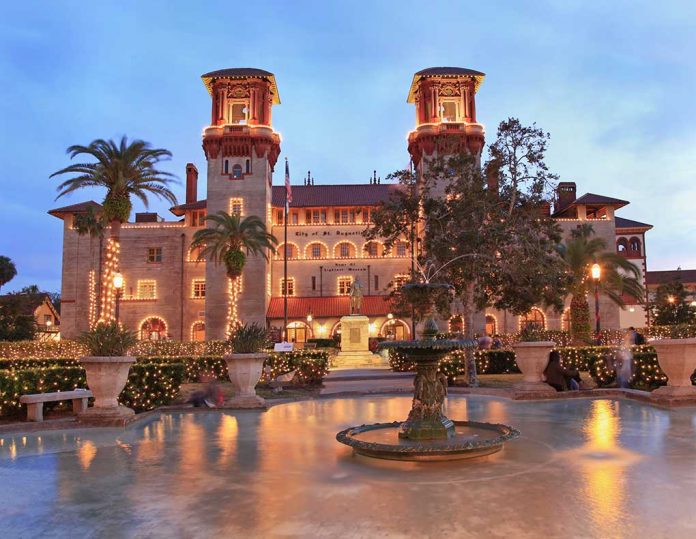 (StraightNews.org) – The United States is a fairly new country on the global scale. However, before the formation of the US, there were still settlements and cities. One, for example, just so happens to be the country's oldest established city, one that holds centuries worth of stories in its walls, roads and land.
September 8th, 1565
On this day, a Spanish expeditionary named Pedro Menéndez de Avilés landed on the shores of modern-day Matanzas Bay. It was here where the oldest city in the US was established, formerly known as the Presidio of San Agustin. Today it's simply known as San Augustine, FL. The area has been consistently inhabited since its founding, earning it the title of "oldest established city in the US."
1672
The original fort was made of wood, which left it vulnerable to pirate attacks. Due to the area's importance in the Spanish Empire, the queen had the fort rebuilt, but this time made of shell stone. The new and improved fort wasn't only stronger, it was also surrounded by a moat and consisted of walls that were 30 feet high and 12 feet thick. There's no question that the fort was built to last, and it did just that as it's the oldest standing fort in the continental United States.
Over 450 Years
The city, which has stood for over 450 years, has plenty of stories to tell, both happy and dark, from Sir Francis Drake's plundering to housing refugee loyalists to the British king in the American Revolutionary War. The city was under Spanish rule for 256 years, and then the British had it for 20 years, until finally the United States acquired the city in 1821.
The fort held prisoners during the Indian wars and was even a battle site for the American Civil War. There's no doubt that the walls of the old Castillo, renamed Fort Marion in 1825, hold not only America's history, but also the history of those who owned it prior.
After its naming, Fort Marion became a national park. The act to proclaim the site officially came in 1933, and in 1942, its original name was restored. Today, the city of San Augustine and the Castillo de San Marcos still stand, allowing people to see the 450 years of exploration, war and settlement of modern-day North America.
Copyright 2021, StraightNews.org