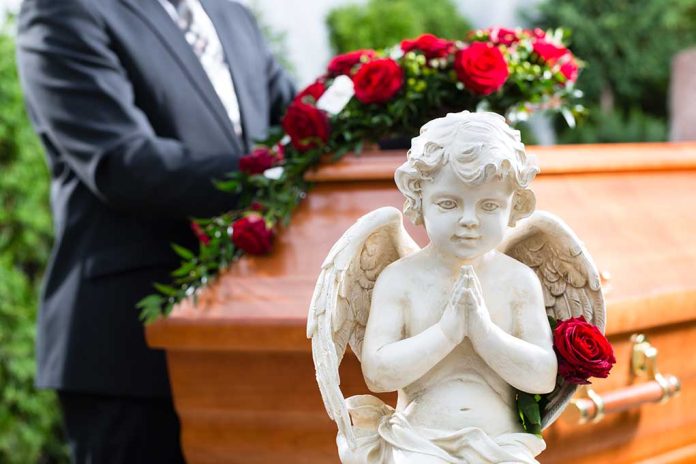 (StraightNews.org) — The owner of a funeral home allegedly shot and killed a rival while he was conducting a service in Maryland. Police in Prince George's County say Wilson Chavis shot 30-year-old Ronald Steven Banks while he was carrying the coffin of a deceased 10-year-old child.
The incident occurred at the Washington National Cemetery on June 6th. Police say Chavis confronted Banks and another unnamed person about a long-running business dispute just as the service was getting underway. The dead child's mother told police that Chavis shouted, "I own this body," before spitting on the preacher and opening fire.
Antionette Belk, the deceased's mother, said she and her family have no connection to either company. "I'm so traumatized that this happened at my daughter's burial site. It's trauma after trauma," she added.
A second person was shot in the incident and hospitalized but is said not to have life-threatening injuries. Police detained Chavis, who fled the scene in his car, soon after the shooting and he has been charged with first-degree murder and attempted first-degree murder.
The funeral was that of 10-year-old Arianna Davis from Washington, DC. The girl was killed in a hail of gunfire in the 3700 block of Hayes Street in the northeast of the city while sitting in a car with her mom on Mother's Day. Police say at least 50 shots were fired in the incident and the girl's family were not the intended targets. After the shooting, Arianna's mother drove her daughter to the nearest fire station, where firefighters transported her to the hospital. She died three days later.
Law enforcement offered a substantial reward for information on the killers, whom police believe sped away from the scene in a dark SUV.
A second child was shot in the nation's capital over the Mother's Day weekend. A teenage boy suffered life-threatening injuries following a shooting in the city's southeast only hours before Arianna Davis was gunned down.
Copyright 2023, StraightNews.org