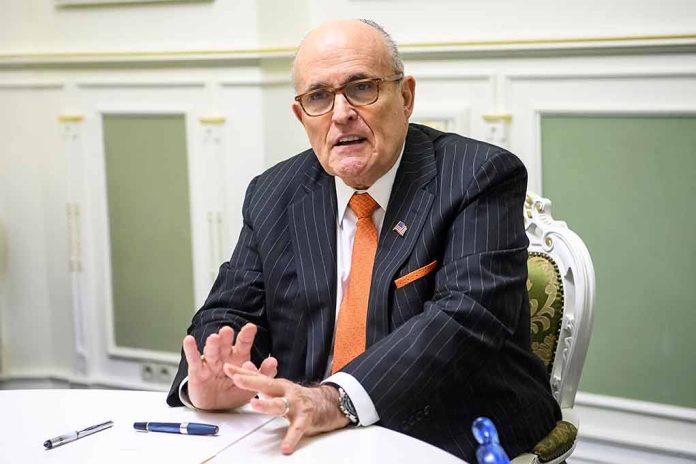 (StraightNews.org) – A bar discipline committee in Washington, DC, is calling for the disbarment of Rudy Giuliani. The panel concluded in a report on July 7 that Giuliani "had forfeited his right to practice law" when he backed up President Trump's allegations that the Democrats stole the 2020 Presidential election. "He claimed massive election fraud but had no evidence of it," the panel declared.
The committee comprises two DC-based lawyers, Robert Bernius and Jay Brozos, and a non-legal contributor, Carolyn Haynesworth-Murrell. The trio has been investigating Mr. Giuliani's role in the events that followed the 2020 election and have heard testimony from dozens of witnesses and Giuliani associates. The panel concluded that Mr. Giuliani's previous accomplishments, including seeing New York City through 9/11 and its aftermath, are overshadowed by his actions and rhetoric in 2020.
The final report states, "He sought to disrupt a presidential election and persists in his refusal to acknowledge the wrong he has done."
Mr. Giuliani's representatives said they are disappointed with the committee's findings and will challenge their recommendations in the DC Court of Appeals. Ted Goodman, Giuliani's spokesman, said attacking the former Mayor of New York was yet another tactic to try to take down Donald Trump.
Giuliani, a staunch Trump loyalist, was barred from practicing law in New York in 2021. The New York Supreme Court ruled that Mr. Giuliani had made statements to the courts that were "demonstrably false and misleading" and had created a "narrative that due to widespread voter fraud, victory in the 2020 United States presidential election was stolen from his client."
Rudy Giuliani was Donald Trump's personal attorney in the aftermath of the 2020 election. Among the statements deemed false by the courts were his allegations that voter fraud was widespread, particularly in Georgia, and that vote-counting machines across the country were altered and corrupted to produce results favorable to President Joe Biden.
The courts have sanctioned several Trump lawyers for supporting the former President's allegations regarding 2020.
Copyright 2023, StraightNews.org