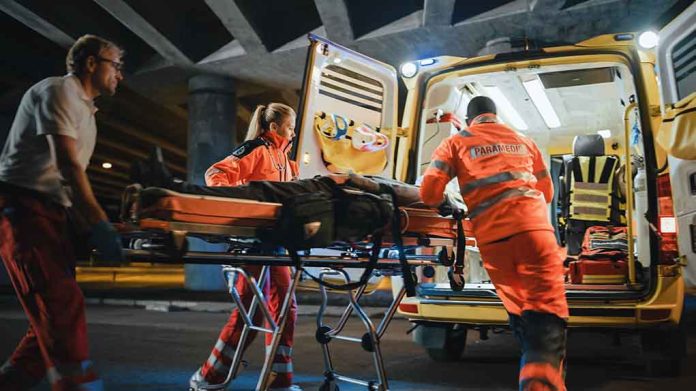 No Good Deed Goes Unpunished: Paramedic Pays a Terrible Price For His Service
(StraightNews.org) – While paramedics often deal with intense medical situations in their ambulances, their altercations with criminals are usually less frequent. However, during a hospital run recently, a New York City paramedic was taking care of a patient when the man pulled out a gun and shot him.
On Wednesday, May 18, 25-year-old EMT Richard McMahon was taking a man's medical history down en route to a hospital around 7:40 p.m. when the patient pulled out a pistol and shot him in the shoulder. The ambulance driver pulled over and the suspect jumped out the back. However, an off-duty police lieutenant and a retired NYPD detective quickly apprehended him and kept him contained until backup arrived.
NBC shared more about this bizarre story:
An on-duty New York City paramedic was shot and wounded by a patient he was treating in a moving ambulance.https://t.co/kyge8uq2dg

— NBC News (@NBCNews) May 19, 2022
The now-arrested alleged shooter was a 37-year-old man who was reported for being disorderly at the Funkey Monkey Lounge on Staten Island. The suspect has a previous history of emotional disturbances and run-ins with the police.
Meanwhile, the injured paramedic was treated at the Richmond University Medical Center and released the next day, as peers celebrated him as a hero. Hopefully, this is McMahon's last run-in with a pistol in an ambulance and he continues to serve his community bravely and safely from here on out.
Copyright 2022, StraightNews.org