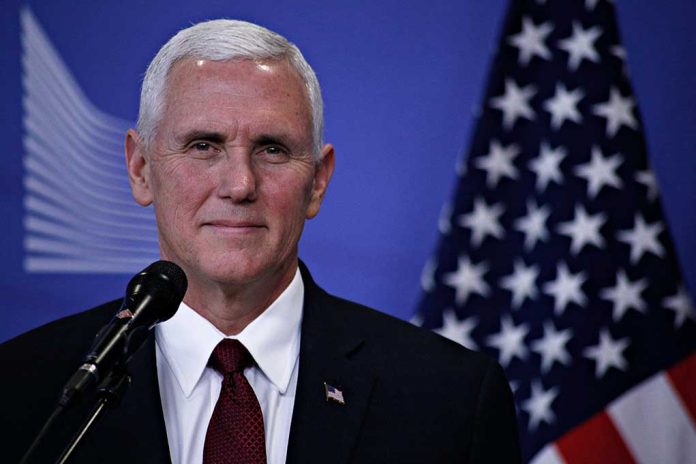 (StraightNews.org) — Former Vice President Mike Pence has said that Joe Biden's remarks on the strange situation involving unidentified flying objects over the United States are too little, too late. "I mean to have the president address this issue two weeks after this captured the nation's attention with the first balloon is just unacceptable," he said. He was particularly concerned about the fact that the first device, an apparent Chinese spy balloon, was allowed to float across the United States for 4 days before being destroyed.
Four objects have been shot from the sky by the US military since the beginning of February and Republicans demanded a response from the White House, which they said was lacking transparency. Pence dismissed the contention that similar events occurred under the Trump administration, something the former President also denies.
President Biden finally addressed the flying devices on February 16th when he said the latter 3 objects were likely to have been simple balloons, and not surveillance devices connected with China or any other country. He said that intelligence reports claim the objects were probably privately owned by research institutions studying weather or carrying out other scientific investigations.
The President said he had ordered the shooting down of the objects on all 4 occasions. He added that China did not want to damage relations with the US over the issue. Meanwhile, Chinese Foreign Ministry Spokesman Wang Wenbin has told America to "reflect on itself" while claiming that at least 10 similar American-owned devices have flown over China in the past year. The Spokesman claimed that America was trying to instigate a confrontation between the two countries, something the US has denied. John Kirby, the National Security Council coordinator for strategic communications, said he was not aware of any US aircraft entering Chinese skies.
The House of Representatives has formally condemned China for its "brazen violation" of US sovereignty. In turn, the communist country has accused America of overreacting.
Copyright 2023, StraightNews.org