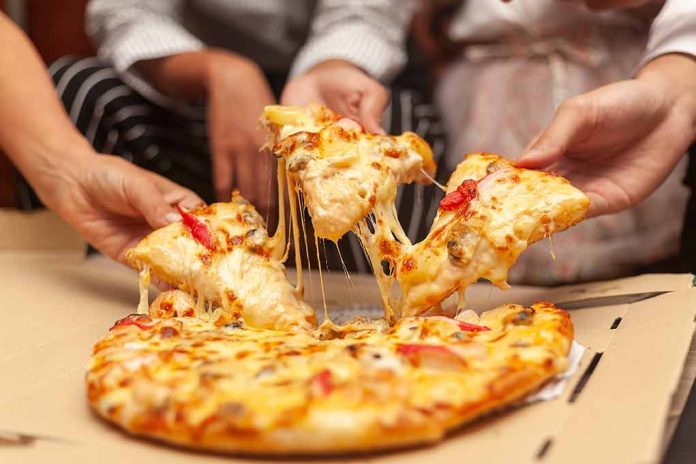 (StraightNews.org) – New York's Department of Environmental Protection (DEP) says wood and coal stoves may need to be removed from the city's pizza parlors. Restaurants will be required to install costly emission-controlling ovens in place of the iconic devices under new proposals submitted to the New York City Council.
"All New Yorkers deserve to breathe healthy air and wood and coal-fired stoves are among the largest contributors of harmful pollutants in neighborhoods with poor air quality," DEP spokesman Ted Timbers said. Restaurants in the city will now be required to cut carbon emissions by 75%.
The owner of a pizza place, who wanted to remain anonymous, told the New York Post that politicians must stop interfering in so many aspects of life. "This is an unfunded mandate and it's going to cost us a fortune not to mention ruining the taste of the pizza totally destroying the product," he said. The restauranteur added that any change in dynamic, such as oven temperature, will completely change the taste of the food.
A pizza lover and Brooklyn Heights resident suggested the government should tell Al Gore to take fewer flights on private jets instead of focusing on pizza.
This is not the first time environmental bodies have taken aim at ovens. Several cities across the nation have already outlawed gas stoves, which critics say pose a health hazard. In Berkeley, California, the city council passed a law in 2019 that banned natural gas facilities from all new building constructions. Similar legislation was enacted in San Francisco in 2020, and New York City followed suit in 2021.
GOP-led areas are attempting to get ahead of the game and some have legislated to ensure that no such bans can be implemented. Twenty states have so far taken this action and been widely condemned by environmentalists who say they are taking choice away from homeowners and construction firms. The Natural Resources Defense Council said local governments cannot fight climate change in these states because of GOP legislation.
Copyright 2023, StraightNews.org