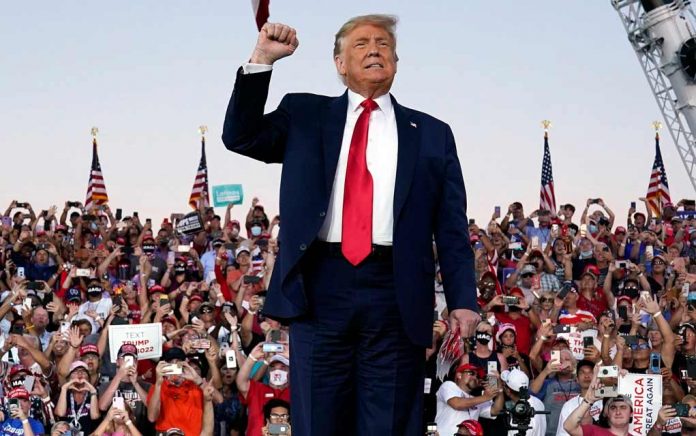 (StraightNews.org) — The battle for the Republican Presidential nomination may be slipping away from Ron DeSantis as Trump poll figures continue to rise. Mr. Trump is leading DeSantis in his own state by 28%. A Florida Atlantic University/Mainstreet Research survey in April placed Trump at 59%, with Governor Ron DeSantis trailing at just 31%.
Support for the two candidates varies across age groups and regions of the Sunshine State—for example, 80% support Trump in the southwest, and only 7% back DeSantis. In the northwest, the candidates are tied on 43% each. Trump has the support of 66% of Republicans aged 50 to 64 but drops to 40% among the 18 to 34 age group.
Trump also has a significant lead over his nearest contender in the crucial state of Iowa. The latest polls from Iowa show Trump in the lead with 44% and DeSantis at 26%. Nikki Haley is in third place at 6%, Mike Pence at 4%, and Vivek Ramaswamy has just 3%.
Meanwhile, commentators have lashed out at CNN for providing a platform for Donald Trump that has allowed him to increase his support. Trump took part in an interview with CNN's Kaitlin Collins, which is widely viewed as a victory for the former President. Reports from inside CNN suggest that staff are furious about the decision.
Long-time anchor Anderson Cooper even said he would understand if people did not watch the network again.
The interview occurred a day after Trump was found liable for the sexual abuse and defamation of writer E. Jean Carroll, who sued the former President for assaulting her in the 1990s. Critics argue that the timing of the interview allowed Trump to respond without challenge and swat away the previous day's jury verdict. New York Rep. Alexandria Ocasio-Cortez said it was shameful that CNN allowed Trump to mock a victim of assault.
An unnamed staff member said, "It was a total debacle, and I've never been more ashamed to work at CNN."
Copyright 2023, StraightNews.org