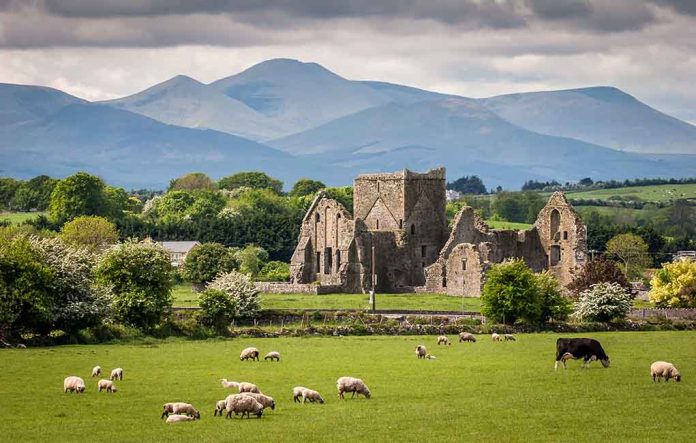 (StraightNews.org) — President Biden has completed a four-day trip to Ireland. The President said he was "at home" as he addressed the Irish Parliament and praised the bond between the two nations. Biden is only the fourth President to speak to Irish lawmakers, following in the footsteps of John F. Kennedy, Ronald Reagan, and Bill Clinton.
Former President Clinton was instrumental in creating the Good Friday Agreement that was principally responsible for the cessation of violence in the troubled Northern Ireland province. Biden said the historic agreement, which celebrates its 25th year, allowed for an "entire generation of young people's lives have been shaped by confidence that there are no checkpoints on their dreams."
In his final address of the visit, the President spoke from his ancestral home – the small town of Ballina in County Mayo. Here he was presented with a brick symbolizing the activities of his great-great-grandfather Edward Blewitt, who sold 27,000 bricks to finance the family's emigration to the United States.
In a poignant moment, Biden met Father Frank O'Grady, who had performed last rites on his son Beau Biden before his death from brain cancer in 2015. The two embraced in a reunion that Biden said he would never forget.
The President also visited the Mayo Roscommon Hospice, where a plaque dedicated to his son is displayed.
The visit was largely without errors or gaffes, although the President did misspeak on one occasion. In Dundalk, Biden paid tribute to a distant relative and rugby player Rob Kearney. Wearing a tie given to him by a current rugby player, the President said, "It was given to me by one of these guys right here, who's a hell of a rugby player who beat the hell out of the Black and Tans."
The correct name of the team he referred to is the All Blacks. The Black and Tans were a group of volunteers that fought against Irish independence and gained a notorious reputation for violence.
Copyright 2023, StraightNews.org