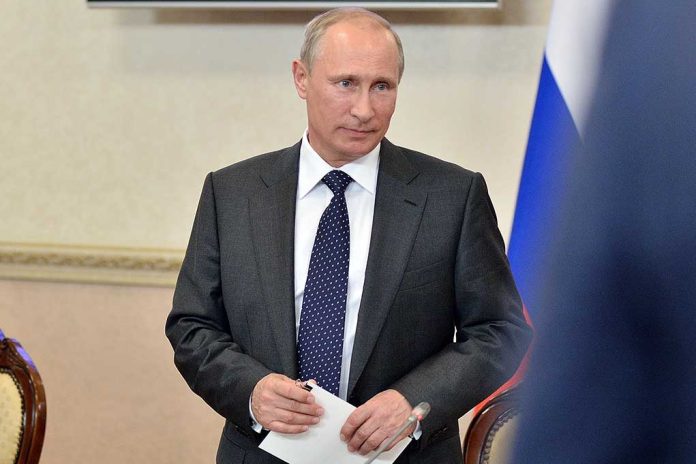 Putin Makes Strange Nuclear Remarks – Here's What They Mean
(StraightNews.org) – Just a few words can hold a world of meaning, especially in international politics. Some leaders carefully craft their images to show only what they want the world to see, while others strive for transparency. Russian President Vladimir Putin often uses his words and videos to portray a cunning, strong leader willing to do anything to achieve his goal. Yet, a recent statement shows another side to him that has experts issuing warnings.
On Monday, August 1, the Russian leader issued a letter to various participants in a meeting about nuclear nonproliferation. According to Newsmax, Putin wrote there are "no winners in a nuclear war" and discouraged such an event from ever being "unleashed." On the surface, some people might construe this communication as him taking a diplomatic tone, but experts believe there's more to the story.
Research fellow Dustin Carmack of The Heritage Foundation called the letter a "diplomatic rouse" or "mind game" that Putin is playing to regain moral ground with the international community, nearly all of which has condemned his ongoing war in Ukraine. National security expert Charles Denyer said the note had a "more conciliatory tone" and reflects that the Russian leader is "a realist."
Russian President Putin says in letter to participants of a conference on the nuclear non-proliferation treaty that there can be no winners in a nuclear war and no such war should ever be started. https://t.co/mxztAuGo7W

— NBC News (@NBCNews) August 1, 2022
Carmack emphasized how Putin's words are "just lip service" and "not a change in tone." He equated the Russian president's alleged new stance on nuclear war to that of Iran, which has condemned nuclear weapons while simultaneously threatening to use them.
What do you think about this expert's view of the Kremlin leader? Send an email to today(at)straightnews.org to let us know what you think!
Copyright 2022, StraightNews.org