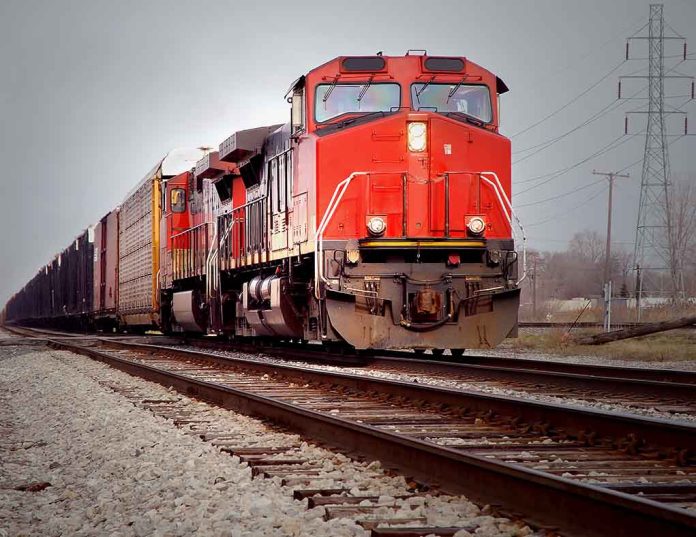 [PICS] 1 Dead, 3 Injured In Aftermath Of HORRIFIC Crash
(StraightNews.org) – Residents near the Park Royal station in London went to bed on Sunday night, likely hoping for a good night's rest. Instead, many awoke to a loud crash, soon followed by the sound of helicopters and police arriving at the scene of an accident. Someone driving a Range Rover had flipped off an elevated highway and onto train tracks.
Around 4 a.m. on Monday, August 22, Rada Al Mousawi, 24, drove his Range Rover off the A40 highway in west London, hit a parked Tesla with its driver inside while it was charging, and flipped onto the train tracks of the railway station. Mousawi, who manages a jewelry store nearby, was reportedly driving over 100 miles per hour in a 40 mph zone before the accident and had two passengers inside.
Reports detail that he was coming from a shisha lounge nearby and was taking his friends to jump their car battery. Many residents believe he may have been caught up in a race when the accident occurred, which often happens along that stretch of road.
One passenger, a parent of a 12-year-old daughter, died, while another survived with a broken arm and leg. The Tesla driver was also injured, and Mousawi lost his leg.
Woman dies after car crash on tracks as Piccadilly Line suspended https://t.co/WzLmkGWFkz pic.twitter.com/MVSzd9cM6h

— The Sun (@TheSun) August 22, 2022
This horrific accident left the Range Rover crumpled on the track, where it will likely remain for some time as authorities continue to piece together just how this happened. The railway remains closed as the investigation continues.
Copyright 2022, StraightNews.org