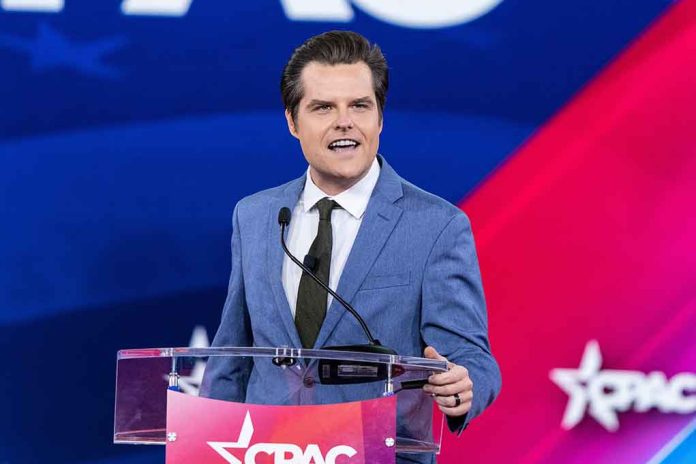 (StraightNews.org) — Florida Republican Rep. Matt Gaetz has sensationally claimed that the Democrats may have engineered the Biden documents scandal to take the President out of the race for the White House in 2024.
The scandal began when it was revealed that classified documents had been found in his former office at the University of Pennsylvania last November. Since then, several more documents have been found in various locations currently or previously occupied by the President. Searches of the locations had been undertaken by Biden's own attorneys and the reason for these searches remains unclear.
Matt Gaetz said, "There's an element to this that feels like the Democrats are taking out Joe Biden. I don't know that's the case, but I don't know that it's not. But just as Joe Biden is hardening the cement around his decision to run for President again, they start looking for what classified documents might have been tucked away eight years ago."
Some of the documents were marked "Top Secret" or as containing "sensitive compartmented information" and reportedly included intelligence and material related to Iran, Ukraine, and the United Kingdom. Attorney General Merrick Garland has appointed a special counsel to investigate the matter.
Polls undertaken in 2022 revealed that the majority of Democrat voters do not want the President to run again in 2024. A New York Times/Siena College poll in July for example showed that 64% of Democrats did not support Biden re-entering the White House. The top reason given was Biden's age. He will be 82 when the next Presidential race takes place.
As 2023 got underway, Biden's approval rating was hovering around 40%. The scandal involving the discovery of classified documents has caused more approval problems for the President as 64% of Americans now believe he acted inappropriately in his handling of sensitive information.
Copyright 2023, StraightNews.org