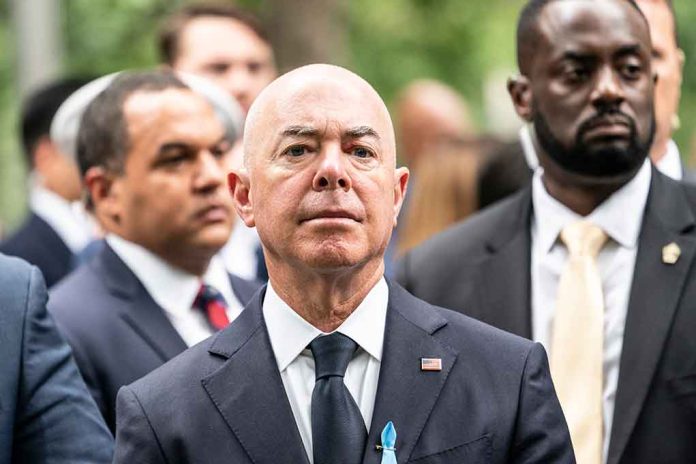 (StraightNews.org) — A Texas Republican has filed articles of impeachment against Secretary of Homeland Security Alejandro Mayorkas. The articles have been filed to the House Judiciary Committee by Rep. Pat Fallon (R-TX). He accused Mayorkas of eroding the nation's borders and jeopardizing national security. "Since day one, Secretary Mayorkas' policies have undermined law enforcement activities at our southern border. From perjuring himself before Congress about maintaining operational control of the border to the infamous whip-gate slander against our border patrol agents, Secretary Mayorkas has proven time and time again that he is unfit to lead the Department of Homeland Security," Fallon said.
Mayorkas told the House Homeland Security Committee in 2022 that the southern border is secure, despite record numbers of migrants arriving. In 2021, following allegations that Border Patrol agents had whipped Haitian migrants, an email obtained by the Heritage Foundation revealed that Mayorkas knew there had been no whipping and yet did not dispute the story. At a press conference hours after he was told the incident did not occur, Mayorkas told reporters, "Our nation saw horrifying images that do not reflect who we are. We know that those images painfully conjured up the worst elements of our nation's ongoing battle against systemic racism." National Border Patrol Council President Brandon Judd said this was "smoking gun evidence" that Mayorkas was willing to lie to the American people to protect his own interests.
The impeachment articles claim that the Homeland Security Secretary has failed to maintain operational control over the border, as required by law, that he lied to Congress when he claimed that the borders are secure, and that he publicly and falsely slandered border agents during the whipping scandal.
New House Speaker Kevin McCarthy has previously called on Mayorkas to resign or face impeachment. "Republicans will investigate every order, every action, and every failure," McCarthy said.
Copyright 2023, StraightNews.org