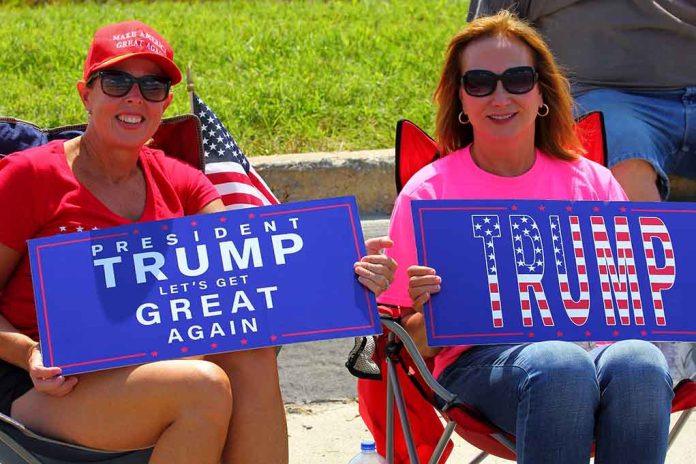 (StraightNews.org) — A poll of Republican women has found that they overwhelmingly majority support Donald Trump. A poll by Fox revealed that 40% of female voters hope to see Trump back in the White House in 2024. In second place was Ron DeSantis at 23%. Former South Carolina Governor Nikki Haley received 9%, while Mike Pence was at 8%. Of declared candidates, Trump received the support of 63%, with Haley at 27%. When asked about the performance of President Biden, only 8% said they approved. The economy is the most important issue for women at 45%, with immigration in second place at 23%.
Only Donald Trump, Nikki Haley, and Vivek Ramaswamy have so far declared their intention to run in 2024. However, Ron DeSantis, the popular Governor of Florida, has begun traveling around the country and appears to be laying the groundwork for his run. The Governor is on a book tour and recently visited the key battleground state of Iowa, where he delivered two speeches at two events in a single day. He denies the visit is part of a Presidential campaign. In his speeches, he referred to his controversial move of transferring migrants to Martha's Vineyard, eliciting a standing ovation and cheers from the crowd.
Both Nikki Haley and Donald Trump are also focusing on Iowa in these early stages. Trump is set to outline more of his policy positions in the coming weeks, including for education. The former President has echoed DeSantis and said that schools teaching critical race theory or telling children that it is possible to be "born in the wrong body" will lose federal funding.
The Trump campaign continues to cause division in the Republican Party as Mike Pence, his former Vice President, said history will hold him accountable for the events of January 6th, 2021. Pence told an audience in Washington, DC, that Trump was wrong. "I had no right to overturn the election, and his reckless words endangered my family and everyone at the Capitol that day," he said.
Copyright 2023, StraightNews.org