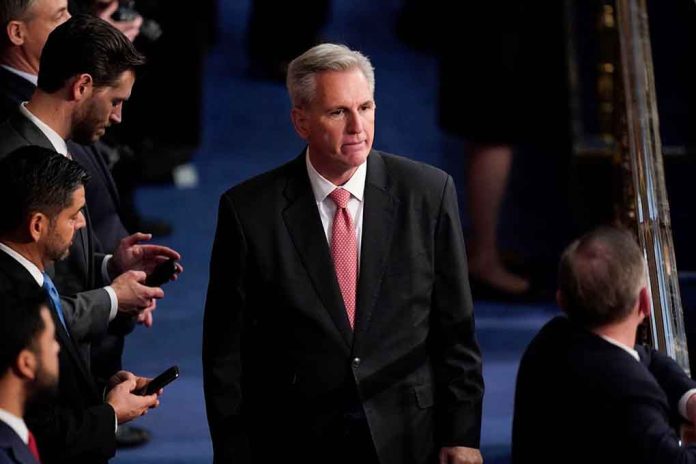 (StraightNews.org) — Republicans have launched their examination of the panel responsible for investigating the events of January 6th, 2021. Rep. Barry Loudermilk (R-GA) is to lead the probe and said he is reviewing the video footage of the day as his starting point. "We've got to get through the documents. We need to do some interviews with people. But at some point, we will have some hearings," he stated. He said the now-dissolved January 6th committee did not carry out a thorough examination of the day's events, and that examination would now take place.
House Speaker Kevin McCarthy has repeated similar claims and defended his decision to provide nearly 41,000 hours of footage to Fox News. He said the initial investigating panel was compromised and one-sided and the reason he provided the footage to Fox was to allow people to see it and make up their own minds about what had transpired. McCarthy's decision has revealed a rift in the Republican Party as Mitch McConnell, the Republican leader in the Senate, said it was a "mistake" to provide the film to popular Fox host Tucker Carlson. McCarthy was criticized for his decision by members of both sides of the political divide.
Carlson has since published some of the footage on his show Tucker Carlson Tonight and has accused Congress of lying about what happened during the riots that engulfed Capitol Hill following the defeat of Donald Trump in the 2020 elections. Carlson said that officer Brian Sicknick, whom some in Congress have said was murdered by rioters, was in fact alive hours after the public was told he had been killed. Carlson said both parties are guilty of lying and of cover-up. "The commitment to lying in Washington is far deeper and more bipartisan even than we realized," he said. He added that debates are manufactured and both parties are united in a common love of money and power.
Copyright 2023, StraightNews.org