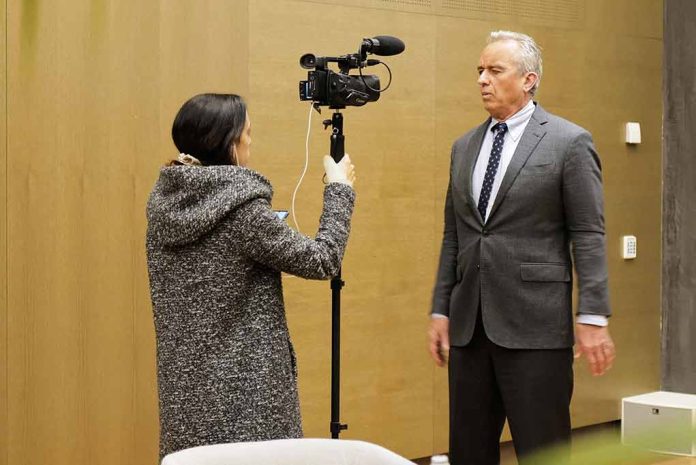 (StraightNews.org) – A shock poll has revealed that Americans have a very positive view of Robert F. Kennedy. The latest member of the political dynasty to enter the electoral fray has seen his popularity skyrocket as he rebels against the grain and takes positions frowned upon by the modern Democratic party. For example, Kennedy wants to shut the borders and challenge the major pharmaceutical companies. Such positions mean he is increasingly labeled a "conspiracy theorist" and even "right-wing" by the mainstream press.
The Economist/YouGov survey revealed that Kennedy is viewed favorably by 49% of respondents. This is compared to 44% for both Donald Trump and Joe Biden. Other polls however show him trailing behind the current President. A Harvard University Center survey result placed Kennedy at 15%, with Biden at 62%.
Democratic strategist Michael Ceraso said the party would be foolish to mock or belittle Kennedy. "Every time we make fun of those who hold fringe positions, we lose," he said. Transport Secretary Pete Buttigieg agreed and said the Democrats must be careful not to be "smug" as this never fares well with the electorate.
Some Democrats however dismiss the favorability showing and insist the reason for his popularity is merely the name Kennedy, which is viewed positively by the Democratic faithful. Political scientist John Pitney argues that voters are not paying attention to the policies at this point in the Presidential campaign and polling results will change as the election draws closer.
"If voters knew more about RFK Jr.'s actual record, that support would drop," Pitney said. He also argues that the incumbent always has difficulty in re-election campaigns because people's problems are laid at the President's door.
The nephew of former President John F. Kennedy, Robert Kennedy entered the Presidential contest in April. The 69-year-old is critical of Democrat policies and says there needs to be radical change. He is joined in the race by self-help author Marianne Williamson, who sits on the party's left wing.
Copyright 2023, StraightNews.org