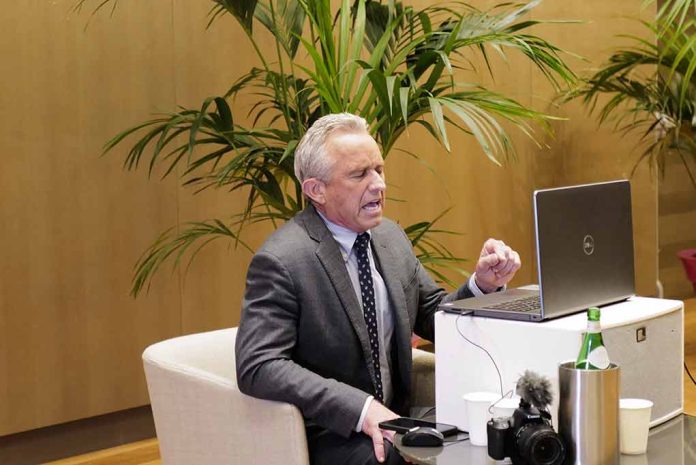 (StraightNews.org) – Democratic Presidential candidate Robert Kennedy said chemicals in water may be contributing to mental health problems in children. During an interview with Canadian psychologist and author Jordan Peterson, he said the potential harm caused by such chemicals is "underappreciated" and may even contribute to the high number of children, particularly boys, currently "identifying" as the opposite gender.
He noted that the chemical Atrazine can be found throughout the American water supply. This substance, he argues, chemically castrates frogs and turns males into fully viable females capable of producing eggs.
"If it's doing that to frogs, there's a lot of other evidence that it's doing it to human beings as well," he said.
The Center for Disease Control and Prevention's Agency for Toxic Substances and Disease Registry has produced a paper on Atrazine. The paper states, "Epidemiological studies, examining developmental end points, have found an association between Iowa communities exposed to atrazine in the drinking water and an increased risk of small for gestational age babies and other birth defects."
Kennedy is loudly outspoken in opposition to vaccine mandates and criticizes the world's largest pharmaceutical companies. He believes the vast and rapid increase in legal drug use has caused many major social problems. In a discussion with Twitter CEO Elon Musk, he took aim at Prozac and connected it with America's gun violence crisis.
Referring to school and other mass shootings, Kennedy said he would look at the role of pharmaceuticals very carefully and argued, "The one thing that we have, it's different than anybody in the world, is the amount of psychiatric drugs our children are taking." He added that there is no research in this area because of the power of the drug companies.
A recent poll shows a surprising jump in popularity for the Democrat. A YouGov survey in June showed Kennedy had the highest favorability rate of any candidate. Kennedy rated at 49%, with Donald Trump and Joe Biden tied at 44%.
Copyright 2023, StraightNews.org