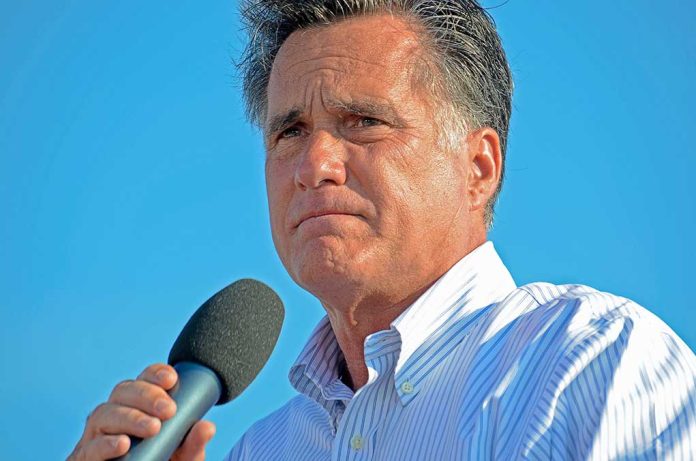 (StraightNews.org) — Senator Mitt Romney (R-UT) told New York Rep. George Santos that he doesn't belong in Congress. He made the remark to Santos as Congress members gathered to hear the President's State of the Union address. Romney told reporters afterward that a Rep. facing an ethics inquiry should not be there and "if he had any shame" he wouldn't be. A few hours later, Santos took to Twitter to attack his fellow Republican with the comment "You will never be President."
Santos is currently facing a potential investigation by the House Ethics Committee, as well as an ongoing probe by the Nassau County District Attorney. He has faced numerous calls for his resignation from both Democrats and Republicans and stories of years of alleged dishonesty continue to emerge. He has used aliases and has even been accused of theft and committing charity scams. His retort to Romney on Twitter attracted the mockery of hundreds of the platform's users. Almost every response called Santos a liar and a fraud.
Hey @MittRomney just a reminder that you will NEVER be PRESIDENT! https://t.co/ANxiQPxAua

— George Santos (@Santos4Congress) February 8, 2023
House Speaker Kevin McCarthy later clarified that Santos is not yet facing a full ethics committee inquiry, but he would be removed from office if he is found to have broken the law.
Mitt Romney is a long-standing key Republican figure who served as Governor of Massachusetts from 2003 to 2007. He was the Republican Presidential candidate against Barack Obama and currently serves as a Utah Senator. He is an outspoken critic of Donald Trump and was one of the few Republicans to find him guilty of insurrection following the Capitol Hill riots of January 6th, 2021. He has called Joe Biden a good man but labeled Trump a "phony" and a fraud. He is an outspoken advocate for the climate change lobby and has been instrumental in formulating a Republican response to the issue.
Romney has said clearly that he will not support the former President in his run for the White House in 2024. Santos, on the other hand, has declared himself an ardent supporter of Trump.
Copyright 2023, StraightNews.org