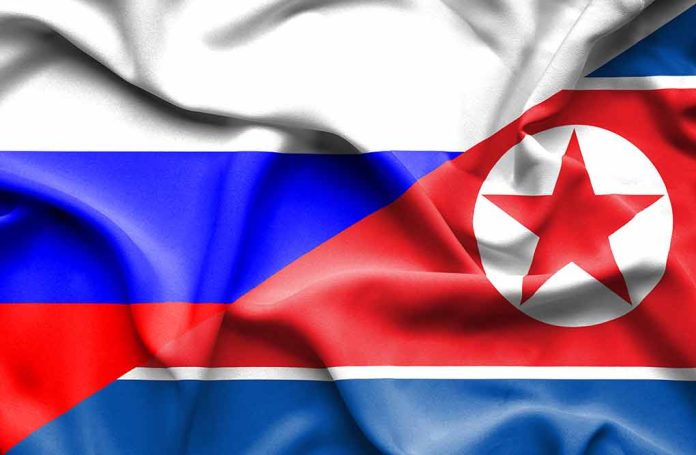 (StraightNews.org) – The US is again warning North Korea not to supply weapons to Russia as rumors of an arms meeting between Vladimir Putin and Kim Jong-un circulate. National Security Council spokesperson Adrienne Watson said the provision of arms and ammunition was discussed during a visit to the secretive communist state by Russian Defense Minister Sergei Shoigu in July. She said she expects the relationship between the two countries to deepen and Kim Jong Un, the North Korean leader, to provide military support to the Kremlin for its ongoing war with Ukraine.
Watson told reporters she expects a meeting between the two leaders soon, but Russian spokespeople refused to comment. She furthermore urged North Korea to "cease its arms negotiations with Russia and abide by the public commitments that Pyongyang has made to not provide or sell arms to Russia."
Last September, Kim Jong Un said it had no plans to arm Russia and accused the United States of "reckless" smearing to tarnish its image. "We have never exported weapons or ammunition to Russia before, and we will not plan to export them," said a statement from the North Korean government.
Putin and Kim last met in 2019 when the North Korean leader traveled to Russia by train. Since then, they have expressed a desire for warm relations and a reprisal of the friendship they enjoyed during the era of the USSR when the two communist nations were economic and cultural allies.
Meanwhile, Russia is also nurturing a closer relationship with communist China to strengthen its geopolitical position in light of the isolation imposed following its Ukraine invasion. Putin met with Chinese Premier Xi Jinping last March when Xi traveled to Moscow, and a Putin visit to Beijing is planned for later this year. The two leaders have expressed warm friendship and promised to remain firm allies in the future.
The United States similarly warned China not to arm Russia, saying there would be "serious consequences" for doing so.
Copyright 2023, StraightNews.org