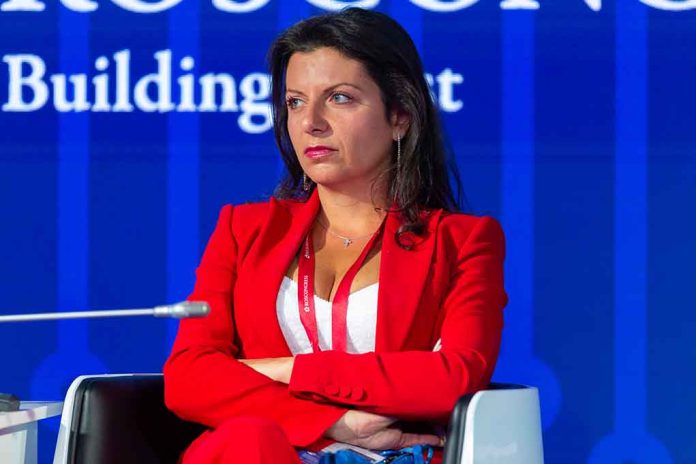 (StraightNews.org) — A Russian TV pundit has claimed that defeat for Putin in Ukraine could trigger World War III. Margarita Simonyan, the pro-Putin head of state news channel Russia Today, said, "either we win in the way we consider our victory, or there will be World War III, I don't see any other way".
She did not state with clarity what that victory would look like, but did suggest Russia has already taken the Ukrainian capital of Kyiv – a claim hotly disputed. Putin is reported however to have annexed four regions of Ukraine, claiming the people of these regions voted in favor of joining Russia. The US State Department described this as a "sham". Simonyan also emphasized that Russia must hold on to Crimea, which it annexed in 2014.
While ruling out any potential nuclear strikes on Kyiv, largely because Russian "holy sites" are based there, Simonyan cautioned that there was no such reason to avoid nuclear attacks on the West. "In Washington or London, we have no holy sites," she said.
In April, foreign minister Sergei Lavrov issued a similar warning. He said the possibility of nuclear war was very serious and very real and the world should not underestimate it. Indeed Putin himself has made similar threats. Back in September, in an address to the Russian nation, the president ominously stated that the country was willing to use "all means" to defend the "territorial integrity" of Russian-occupied lands. A UN researcher at the time said these statements marked an escalation of rhetoric toward nuclear war from Putin.
This is not the first time the Russian president has raised the possibility of a nuclear World War III. Before the current conflict in Ukraine, which began with Russia's invasion of the country in February 2022, Vladimir Putin boldly claimed that Russia would "easily" win any war, including a third global conflict.
Copyright 2022, StraightNews.org