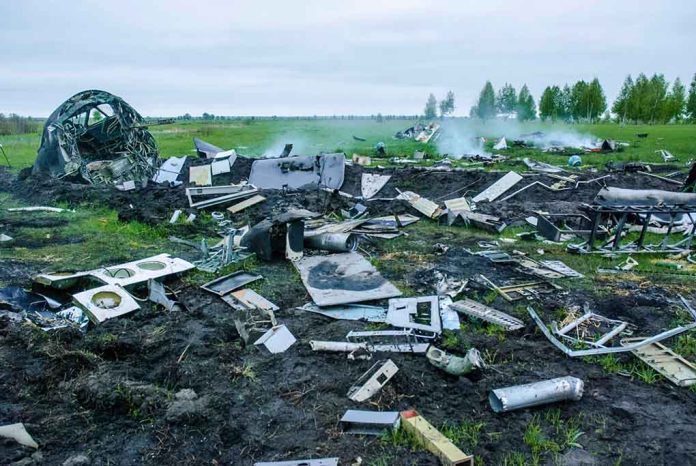 At Least 15 Dead After Russian Military Plane Crashes Near Border
(StraightNews.org) – Each country's military routinely carries out training exercises to help service members stay ready in the event they're called to duty. However, sometimes these exercises can go horribly wrong. Such was the case in Russia recently when a jet crashed shortly after takeoff, highlighting some of the strain the country's military has faced since the invasion of Ukraine.
Su-34 Warplane Crashes in Yeysk
On Monday, October 16, the Russian military was in the middle of a training session with a Sukhoi Su-34 when one of the plane's engines caught fire. The fighter-bomber, which is commonly used to drop bombs or engage other military planes, failed to gain altitude and crashed into a residential building in Yeysk, a Russian port town just south of Ukraine's Mariupol.
Some reports state the collision sparked an enormous fire because the payload onboard detonated upon impact. Krasnodar regional Governor Veniamin Kondratyev denies this claim, saying the fallout would've been a lot worse had that been the case. Nevertheless, videos and images of the blaze show a significant part of the apartment building engulfed in flames, and it took some time for firefighters to put out the fire. Both pilots in the warplane safely ejected, according to the Russian Defense Ministry.
While an engine fire was deemed responsible for the crash, Russia's Investigative Committee opened a criminal case into the matter and sent forensic specialists to the scene to further delve into the cause.
Death Toll
Following the tragic accident, the death toll continued to climb. The most recent count, at the time of writing, comes from Anna Minkova, deputy governor of the Krasnodar Territory, who revealed that 15 people had died in the crash and its fiery aftermath. Three of the victims were children. An additional 19 people were injured, some suffering from severe burns.
Officials initially reported at least 17 apartments were damaged in the crash but say they're still fully assessing the extent.
A Disturbing Pattern of Plane Crashes
This isn't the first time an Su-34 has gone down, forcing the pilots to eject. It happened back in May, as well. That time, it went through a two-story home in northern Ukraine. The pilot, as well as the residents in the home, survived.
However, there have been eight other plane crashes since Russia invaded its neighbor back in February. Most of these were transport planes and strike aircraft. It certainly shows a disturbing trend for Russia's military aircraft, especially when reports have continuously revealed its military equipment is sorely outdated.
Copyright 2022, StraightNews.org