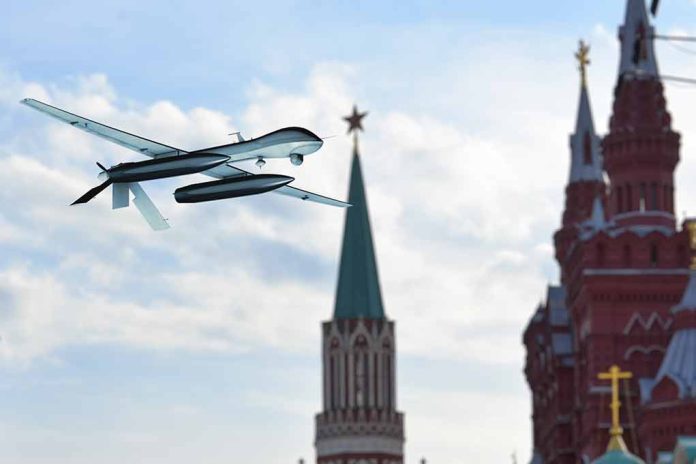 (StraightNews.org) – Russian defense systems shot down two drones over Moscow as the war escalates inside Russia. The three largest airports in the Russian capital were shut down, and airspace closed, when the devices were destroyed over the Krasnogorsk and Chastsy areas early in the morning of August 22. Ukraine has not commented, and Russian officials say there was no damage caused to Moscow property and no casualties.
Later on August 22, a second report detailing further drone attacks emerged. Significantly, the later reports signaled that the attacks had come from inside Russia, though details remained vague. The British Ministry of Defense estimated that the assault on a Russian bomber jet, which was "very likely destroyed," came from a site around 650 kilometers from the Ukrainian border.
"If true, this adds weight to the assessment that some UAV [uncrewed aerial vehicle] attacks against Russian military targets are being launched from inside Russian territory," a British statement read.
Meanwhile, a Russian missile strike on the Ukrainian city of Chernihiv killed seven and injured more than 100 on August 19. Among the dead was a six-year-old child, prompting the United Nations to condemn the attack as "heinous." Ukrainian President Volodymyr Zelenskyy labeled it a "terrorist attack" and promised a "notable response."
Training to fly US F-16 fighter jets, promised to Ukraine by the United States, got underway the same weekend, but officials say it could take up to six months to complete. Russian President Vladimir Putin was busily receiving reports from top military figures in Rostov-on-Don, near Ukraine's border, around the same time.
The war, which began in February 2022, escalated in June with a much-anticipated Ukrainian counter-offensive. Ukraine's troops are engaged in a fierce battle to retake territory lost to Moscow in the early stages of the war.
The United States has provided more than $110 billion in aid since the conflict got underway, and in August, President Biden asked Congress for another aid package worth around $24 billion.
Copyright 2023, StraightNews.org