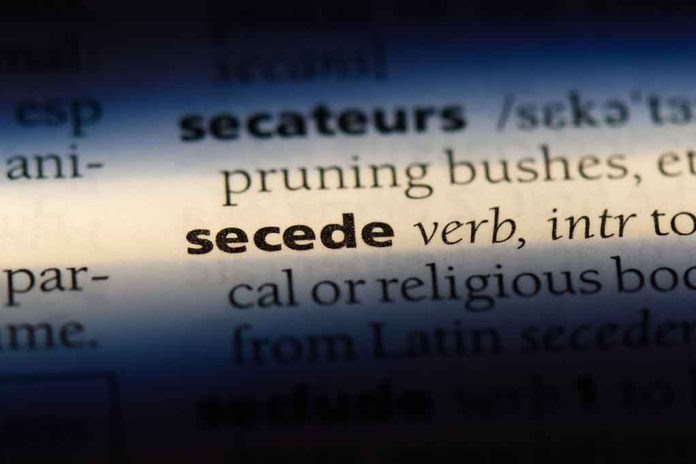 (StraightNews.org) — Residents of the California county of San Bernardino have voted to direct officials to investigate the possibility of leaving the state. Departing from California and founding a new state would however require the approval of the California State Legislature and Congress. Some commentators have described this as a "long shot". It would be the first newly created state since the establishment of Hawaii in 1959.
San Bernardino residents are reportedly unhappy with rising crime levels, homelessness, and high taxation.
The Public Policy Institute of California released data in 2021 showing an increase of 6% in violent crime from the previous year. Homicide and rape had risen by 7.7% and 7.9% respectively. The data also showed that the Golden State's violent crime rate was higher than the national average. Of California's 58 counties, crime had increased in 37, with a rise of more than 30% in 10.
The growth in crime in San Bernardino is even bleaker. The city now has one of the highest murder rates in the United States. In 2020, 68 murders were reported in the city, or 31.4 per 100,000 people. The national rate is much lower at 6.5 per 100,000. Violent crime overall rose across the county by 13% in 2021.
Meanwhile, taxes are also going up.
The Wall Street Journal reported in October that Governor Gavin Newsom was quietly introducing a stealth tax. "In 2024 California's top marginal tax rate will increase to 14.4% from 13.3% for workers making more than $1 million. Those making between $61,214 and $312,686 would pay 10.4%. So California's upper-middle class will pay more than millionaires in almost every state," the newspaper claims.
San Bernardino is a 20,000-square-mile area with a population of two million residents. Voters in the county usually choose Democratic candidates and have supported Democrats in the last 4 Presidential elections.
Copyright 2022, StraightNews.org