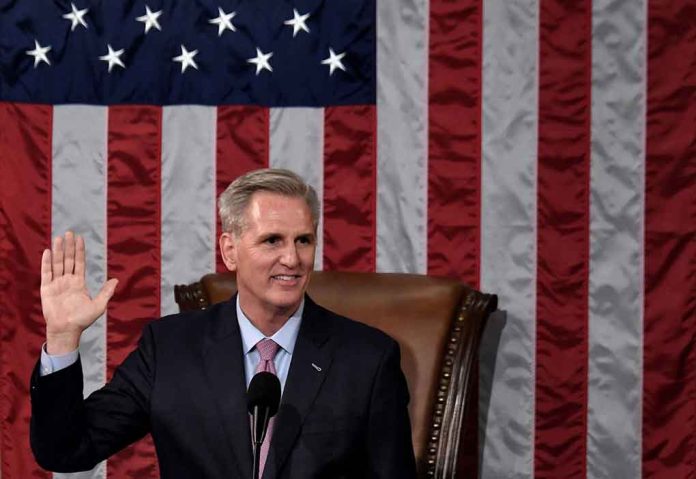 (StraightNews.org) — The House GOP Steering Committee has recommended George Santos take a seat on two committees. The New York Representative, who is facing calls to resign from both sides of the political aisle, has been recommended for the House Small Business Committee and the House Science, Space, and Technology Committee. The recommendations will need to be approved by the House Republican Conference.
The news comes only days after Democrats, and some Republicans, argued that Santos should not be assigned to any committees because of his dishonesty during his election campaign last November. On January 11th, House Speaker Kevin McCarthy also stated that Santos should not sit on most panels. The Speaker has not however joined in the chorus of calls for the New York representative to resign.
Santos has been under fire since he admitted last year to lying about his work and educational background during the midterm election campaign. Since then, questions have been raised about his finances and even whether he is using his real name. Video footage has emerged of him using the names Anthony Devolder and George Devolder as recently as 2019. Former roommates have also accused him of theft.
One of his most controversial fabrications surrounded his religious affiliation. Santos had claimed to be Jewish, but later said he was Catholic. In November, the Republican Jewish Coalition (RJC) welcomed Santos to a leadership meeting in Las Vegas where he delivered a speech and introduced himself as one of three Republican Jews in the upcoming Congress. When the news was revealed that Santos was not in fact Jewish, the RJC expressed its shock. In a statement, the organization said, "He deceived us and misrepresented his heritage. In public comments and to us personally he previously claimed to be Jewish. He has begun his tenure in Congress on a very wrong note. He will not be welcome at any future RJC event."
Copyright 2023, StraightNews.org