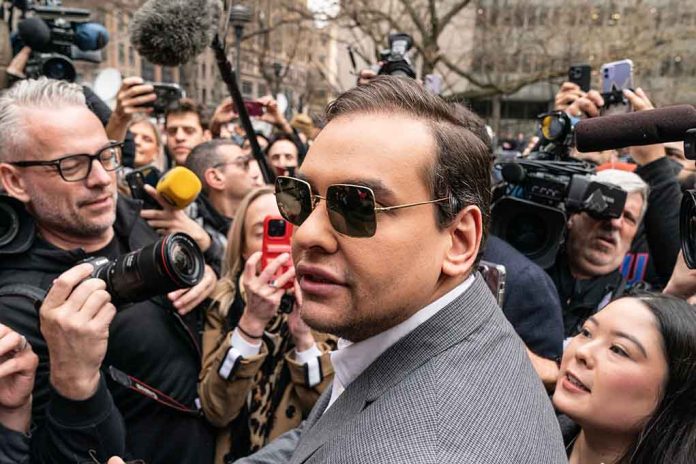 (StraightNews.org) — Financial records registered with the Federal Election Commission show that George Santos paid more in refunds than he took in contributions this year. The New York Republican Rep. has been under intense scrutiny since he entered the House because he admitted to telling significant lies in his electoral campaign. An examination of his financial situation from January 1st to March 31st, 2023, also shows inconsistencies and odd transactions.
The records reveal that refunds constituted the sole expenditure of the three-month period. There were no disbursements for staff expenses or loan repayments. The figures show that Santos received $5,333.26 in contributions but paid $8,352.78 in refunds. A loan of $715,000 is listed as provided by the personal funds of the Congressman.
Late last year, the US Attorney's office in the Eastern District of New York announced that it would fully investigate his affairs. Nassau County DA Anne Donnelly, a Republican, said, "The residents of Nassau County and other parts of the 3rd District must have an honest and accountable representative in Congress. No one is above the law."
The embattled Representative faces several probes at state and federal level. In early March, the House Ethics Committee formally opened its investigation into Santos' activities. The study examines whether the Congressman broke the law during his 2022 campaign, as well as allegations that he behaved inappropriately toward staff.
Rep. David Joyce (R-OH) will chair the panel, which will include Rep. Susan Wild (D-PA), Reps. John Rutherford (R-FL), and Rep. Glenn Ivey (D-MD). House Speaker Kevin McCarthy said he would follow the committee's recommendations.
Since his admission that he had lied about his work experience, religion, and educational background, accusations against the Congressman have been varied and many. A former roommate accused him of theft, he was alleged to have made inappropriate advances to staff, and it came to light that he was a political activist under the name Anthony Devolder until as late as 2019.
Copyright 2023, StraightNews.org