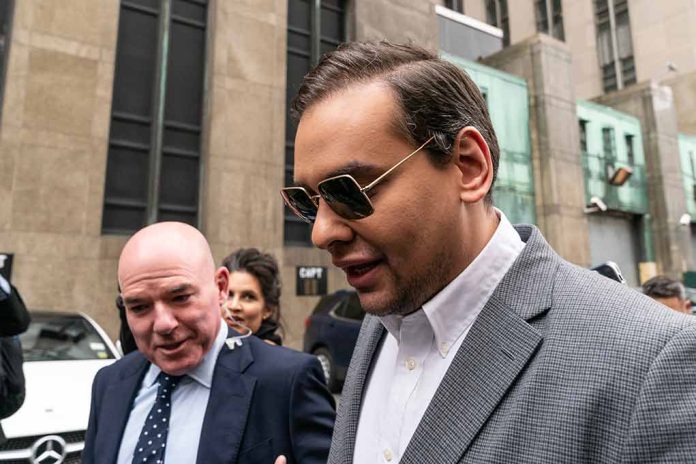 (StraightNews.org) — New York Republican Rep. George Santos has been indicted on 13 felony charges, including fraud, money laundering, and theft. The indictment will likely create a political headache for Republicans facing calls for Santos to resign from a chamber where the GOP has a razor-thin majority.
Santos has been under fire since before he entered the House of Representatives. He admitted to lying during his election campaign resulting in members of his own party turning against him. Santos acknowledged that he lied about his educational and work background and even that he was Jewish. Some senior GOP figures fiercely denounced the Congressman, including Mitt Romney, who publicly told him he had no right to sit in America's Congress.
Since he took his seat in the House, the scandals have only deepened. Santos' finances are under scrutiny, and the House Ethics Committee opened an investigation into his conduct in May. He was accused of theft by former roommates, and tapes emerged showing him involved in political activism under the name Antony Devolder as recently as 2019. He was also investigated for making unwanted romantic advances toward a staff member.
Rep. Santos announced his intention to run for re-election in April. The announcement led to renewed calls for him to step down, but the New Yorker dismissed these and said he is proud to run again. He faces a contest against military veteran Kellen Curry and fellow Republican Phillip Grillo. Democrats who intend to enter the race include former state Sen. Anna Kaplan, Nassau County Legislator Joshua Lafazan, and law professor William Murphy.
Republican House Speaker Kevin McCarthy, who has previously resisted calls to force Santos's resignation, said he would not back his campaign in the light of the 13-count indictment. However, when asked if he would actively campaign against Santos, he refused to answer and said the Congressman has "a lot going on."
George Santos was elected to represent New York's third district in 2022.
Copyright 2023, StraightNews.org