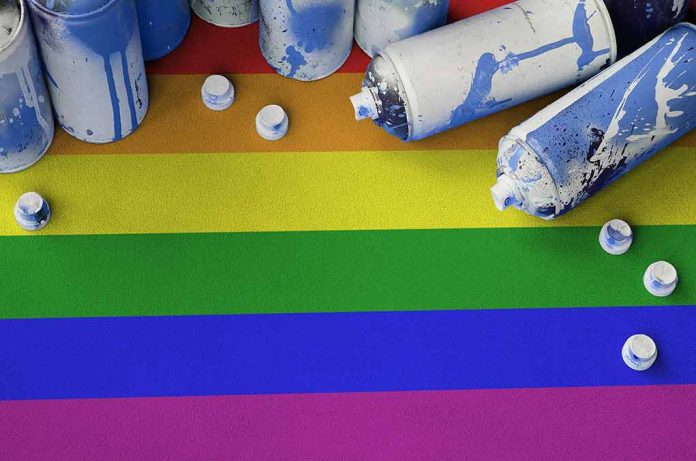 (StraightNews.org) – A mural featuring LGBTQ-friendly images will be removed from a school in Michigan as part of a deal between the school board and a local health center. The mural ignited a storm of protest from parents who said it contained inappropriate adult themes and even symbols of witchcraft due to the presence of the Hand of Fatima – a symbol of protection in many cultures.
The painting furthermore features the colors of the transgender flag, the bisexual flag, and the gay pride rainbow.
Grant High School student Evelyn Gonzalez painted the mural after winning an art contest, and it is displayed at a health center in Grant Public Schools. In June, the school board voted to cut ties with the health center but did not explicitly explain that the mural was the reason. Julie Tatko, president and CEO of Family Health Care, indicated that cost was the central issue, but Grant Public Schools' superintendent Brett Zuver told reporters he was unaware of any problems and was stunned when the vote took place.
The Health Center, together with a group of parents, challenged the board's decision, but following months of negotiations, a deal has been reached, including a new contract with the health center and the removal of the mural. A spokesperson for the Family Health Center said, "While it is disappointing that the mural must be removed by the end of October, it's a compromise we reluctantly were willing to accept."
Evelyn Gonzalez expressed heartbreak at the decision and spoke through tears at the recent board meeting when she said her intention was only to "make people feel welcome." Superintendent Brett Zuver said he was very proud of the teenager, adding, "She is a great young lady."
Supporters of Gonzalez – now a high school senior – created a GoFundMe account to pay for her attendance at art college after high school. By mid-September, people had donated more than $10,000.
Copyright 2023, StraightNews.org