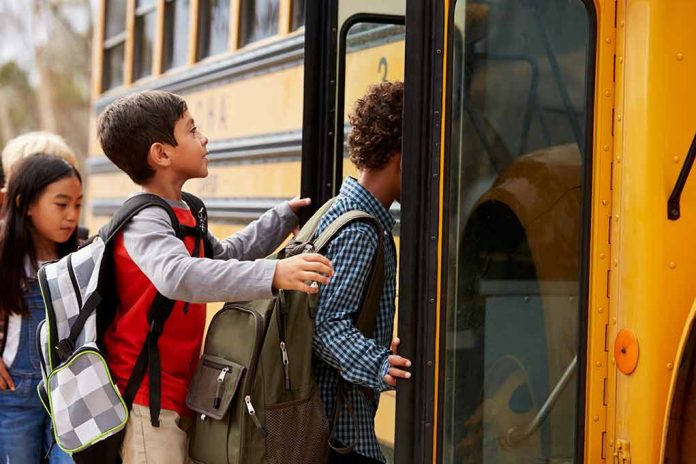 (StraightNews.org) – A child died and more than twenty were injured when a school bus crashed in Ohio on August 22. The bus, carrying 52 kids from Northwestern Local Schools, was traveling on Route 41 at Lawrenceville at around 8.15 in the morning when it collided with a Honda Odyssey minivan. It was found turned on its side in the grass next to the highway. The van driver was identified as 35-year-old Hermanio Joseph of Springfield, Ohio.
The children were on their way to their first day of school in Clark County when the accident happened. Ohio State Highway Patrol Trooper Tyler Ross said one child was ejected from the bus during the accident and was pronounced dead at the scene. One other student was in a serious condition, while a further 22 were treated for non-life-threatening injuries at nearby Dayton Children's Hospital. The bus driver was hospitalized at Springfield Regional Medical Center but his injuries were not considered serious or life-threatening.
The driver was wearing a seatbelt, but like most school buses in the United States, passengers were supplied with no safety apparatus. This is despite data showing more than 100 school bus crashes each year. According to the National Highway Traffic Safety Administration (NHTSA), there were 1,207 school bus fatalities between 2009 and 2018.
Following a 2020 accident that resulted in two deaths, the National Transportation Safety Board (NTSB) called for the installation of lap and shoulder seatbelts for school children. A 7-year-old child died in Decatur, Tennessee, in 2022, and the NTSB called the tragedy "unimaginable and preventable." NTSB chair Jennifer Homendy said, "This case is a gut-wrenching reminder that failure to act on our recommendations can lead to."
Federal law authorizes the NHTSA to set safety standards on school vehicles, and its regulations require three-point seat belts on school buses weighing less than 10,000 pounds. Individual states and local jurisdictions decide whether to require seat belts on larger vehicles.
Copyright 2023, StraightNews.org