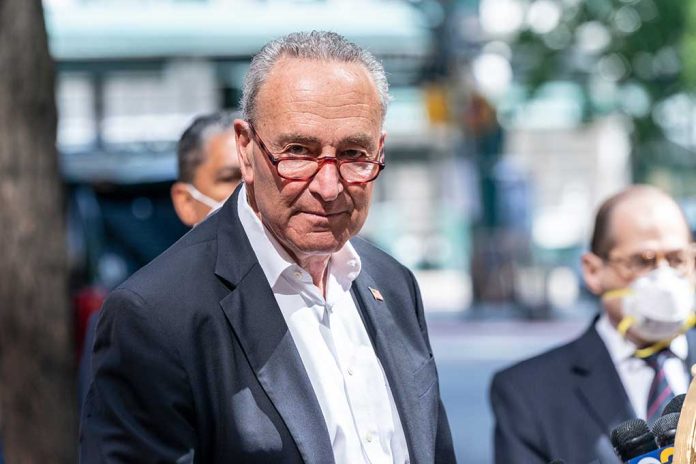 (StraightNews.org) — Senate Majority Leader Chuck Schumer has said that Fox News is the number one cause of the erosion of democracy in America. Schumer was discussing the Dominion lawsuit with CNN when he said that doubt in the validity of elections has created the biggest threat to democracy in our nation's history. "What caused this? Number one was Fox News and their commentators spreading the big lie day after day, night after night, hour after hour, week after week, year after year. They're the number one cause that there is such erosion in our democracy," he said.
Fox News is being sued by Dominion Voting Systems for allegedly defaming the company in its coverage of Donald Trump's accusation that the 2020 Presidential election result was fraudulent. The company said it has lost business as a result and has filed a lawsuit for $1.6 billion. If found guilty, the network may not be able to continue. It has recently emerged that Fox board member Paul Ryan "begged" the network to stop covering stories that endorsed the view that the election result was invalid. The Former GOP House Speaker went further and blamed host Tucker Carlson for pushing "toxic sludge, racism, disinformation, and attacks on democracy" on his popular show Tucker Carlson Tonight.
Legal experts have warned that Fox does not appear to have any reasonable defense in the lawsuit. Evidence that the voting systems company has in its arsenal includes a declaration by the Network's owner Rupert Murdoch that Fox did indeed suggest that the election had been conducted dishonestly. Text messages between some of Fox's leading stars reveal that they had doubts about Donald Trump's claims of fraud but continued to validate these anyway.
Fox's lawyers say Dominion is cherry-picking quotes to support its case and has not reached the threshold required to prove defamation. They argue that Fox was merely reporting rather than endorsing the former President's claims and are protected from legal sanction by the First Amendment.
Copyright 2023, StraightNews.org