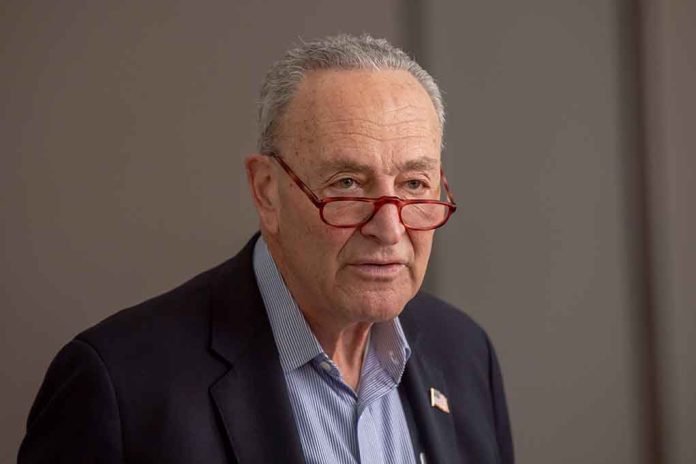 (StraightNews.org) – Senate Majority Leader Chuck Schumer has taken a swipe at Florida Governor Ron DeSantis on Twitter, saying he is "excusing" Russian President Vladimir Putin. The New York Democrat tweeted that DeSantis and others on the "hard right" were refusing to condemn the Kremlin and its war in Ukraine. "This isn't hard; Putin is a threat to American national security and democracy," Schumer wrote. His tweet came as Putin said he was to place tactical nuclear weapons in Belarus as a warning to the West.
The Russian President said the Belarus decision was made in response to the UK providing Ukraine with armor-piercing weapons containing depleted uranium, which the Kremlin claims encompass nuclear components. Putin went on to say that the action would not amount to a breach of international arms treaties because America frequently deploys nukes in NATO countries.
Schumer's criticism of DeSantis follows his recent comments on Twitter in which he referred to the Eastern European war as a "territorial dispute" that was of little interest to the United States. DeSantis broke ranks with most Members of Congress who believe Russia is a major threat and said the real menace to the US is China.
The Floridian was forced to step back from his comments when he was roundly criticized by both sides of the political divide. He said he should have been clearer on his views and that he had been referring to older conflicts involving the Donbas region and Crimea. "There's a lot of ethnic Russians there. So, that's some difficult fighting, and that's what I was referring to, and so it wasn't that I thought Russia had a right to that, and so if I should have made that more clear, I could have done it," he said.
DeSantis also went on to state that Putin is a war criminal who should be held accountable for his actions. He said he agrees that Russia does present a threat to the United States.
Copyright 2023, StraightNews.org