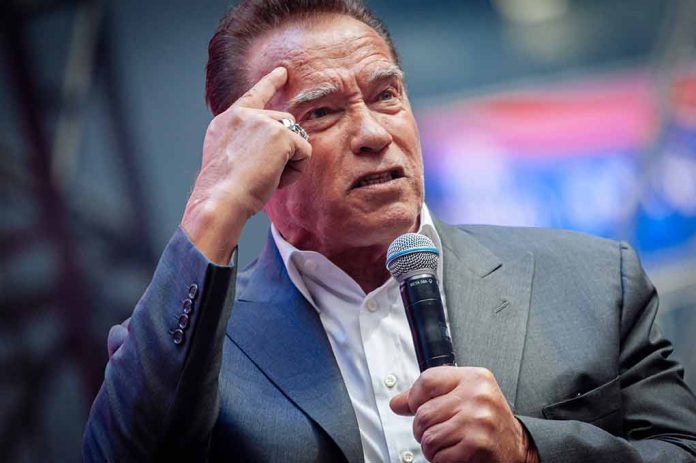 (StraightNews.org) — Movie star and former California Governor Arnold Schwarzenegger said there is no after-life and we will not see each other again after we die. He said heaven and hell are "fantasies," and when we pass away, we are simply six feet under and anyone who says differently is a "liar."
The 75-year-old Terminator star revealed his beliefs in an interview with People Magazine. He said he is uncomfortable speaking or thinking about death, adding that people merely console themselves and alleviate their fear with notions of heaven, or seeing family members again.
Schwarzenegger is the subject of a new Netflix mini-series in which his life story is laid bare. In the tell-all exposé, the former bodybuilder describes the moment he confessed to his wife that he fathered a child with their housekeeper.
He married Maria Schriver, a Kennedy family member, in 1986 and began his affair with housekeeper Mildred Baena ten years later. She gave birth to their son Joseph only days after his wife delivered the couple's fourth child. He admitted the affair to Schriver at a couples' counseling session in 2011 – she said she could not forgive him and the marriage ended.
While he has developed and maintained a relationship with his once-secret son, who he says he loves dearly, he regrets hurting his wife. "It was wrong what I did but I don't want Joseph to think he's not welcome in this world because he is very much welcome and I love him," the actor stated.
Austrian-born Schwarzenegger became a major star in the 1980s, particularly following his starring role in the time-travel science-fiction hit The Terminator. In 2003, he ran for Governor of California and won. In the upcoming Netflix series, he addresses rumors that he harassed female staffers during the election campaign and said this too was "wrong."
A Republican, Schwarzenegger said he knew he belonged in the party because it spoke of freedom and enterprise. He described it as an escape from the socialism he left behind in Austria.
Copyright 2023, StraightNews.org