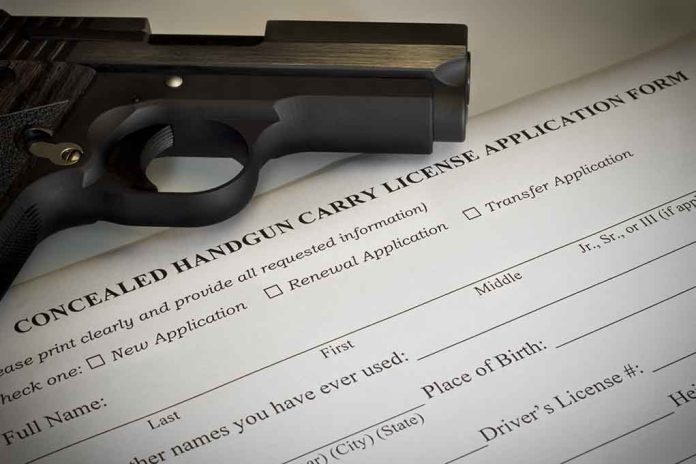 (StraightNews.org) — The Supreme Court has said it will not hear requests to block New York's Concealed Carry Improvement Act. The one-sentence ruling was delivered on January 19th following a challenge by a group of gun store owners. "The application for writ of injunction presented to Justice Sotomayor and by her referred to the Court is denied," the court said.
New York's new law on carrying a concealed weapon has been moving through the courts since November when a District Court Judge, Glenn Suddaby, said parts of it amounted to "constitutional violations". The state was therefore forced to delay enforcement of the law that was signed by Governor Kathy Hochul in July.
The Concealed Carry Improvement Act prevents people from carrying concealed weapons in "sensitive" places, including houses of worship, museums, parks, and public transport.
Just over a week after Suddaby's ruling, a federal appeals court overruled it and allowed New York to enforce the law. Gun Owners Association President Erich Pratt responded by stating, "New York has once again defied the Constitution," and vowed to take the matter to the Supreme Court.
House Republicans, including NY Reps. Claudia Tenney, Nick Langworthy, and Elise Stefanik, lashed out at Governor Hochul saying she has an anti-gun agenda. They introduced a resolution to the House that stated, "All States should pass legislation supporting Second Amendment rights instead of trying to restrict or undermine Americans' constitutional rights."
The Biden administration however has made clear it wants more gun control across the nation. In June 2022, the President signed the most comprehensive gun control bill in decades. The law introduced tougher background checks, provided billions of dollars for mental health and school safety programs, and banned those convicted of domestic violence from owning a gun. "While this bill doesn't do everything I want, it does include actions I've long called for that are going to save lives," Biden said.
Copyright 2023, StraightNews.org