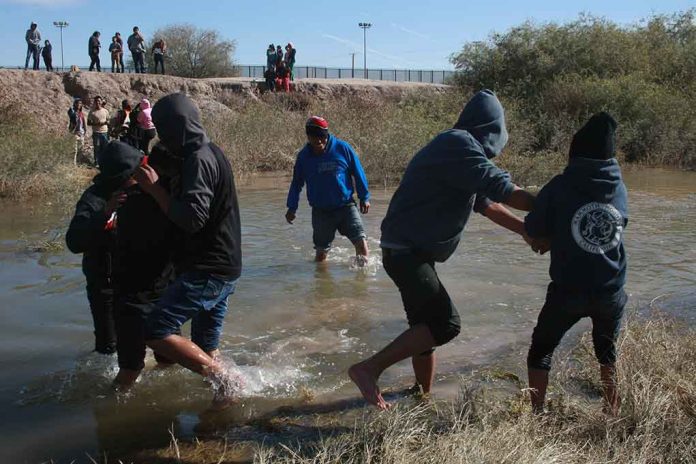 (StraightNews.org) — Officials from the Del Rio Border Control Sector have reported that 6,000 migrants have either been apprehended or escaped detention there in a single week. The figure for the month of March is approximately 24,000 for the same area. This figure is down from 41,631 at the same point last year. However, the annual numbers reveal an increase, with 218,000 crossings since October 2022 – compared to 195,299 the previous fiscal year. 
The Del Rio Sector is one of the busiest crossing points on the entire US southern border. The area was visited by Republican Presidential hopeful Nikki Haley recently, making it the first trip to the border by any of the 2024 candidates. The former South Carolina Governor spoke to law enforcement agents there and heard from local people about the strain such huge migration figures pose. She met with the Tambunga family who lost two relatives in a fatal car crash involving a migrant on the run from authorities. Haley said that she supports a policy of catch-and-deport as opposed to the Biden administration's catch-and-release. 
At a press conference in Eagle Pass, the Republican told reporters that the Fentanyl crisis, exacerbated by open borders, must be tackled as a matter of urgency. She insisted that China must be held to account for its role in the epidemic of American deaths caused by the drug. Fentanyl is manufactured in South America but using chemicals imported from China. 
Haley has made illegal immigration a central tenet of her White House campaign and said that companies that hire illegal workers should be held to account. She added that the government needs to work with businesses to determine how many workers they need and to issue work visas accordingly. "When you start to listen to your businesses and do what they need, all of a sudden the economy goes up, people are going to work and everything gets better," she said. 
Copyright 2023, StraightNews.org