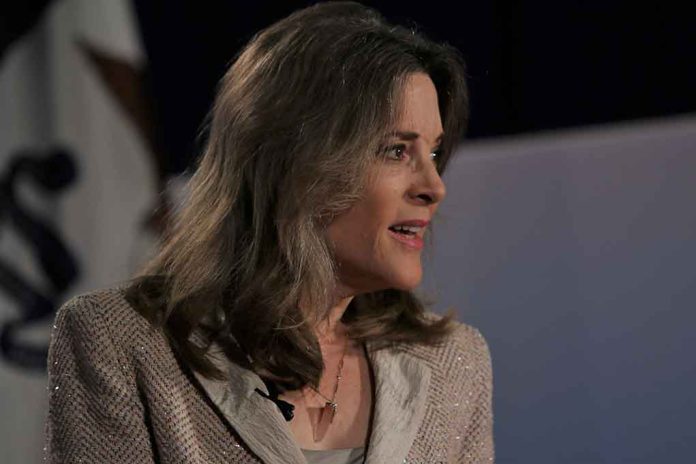 (StraightNews.org) — Marianne Williamson lost her campaign manager and his deputy in a single weekend. Campaign manager Peter Daou quit on May 20th, a day after deputy manager Jason Call. Daou explained his departure on his Twitter account, saying that he had family commitments to attend to. He wished the candidate well and added that her ideas are the "strongest and most transformational of this election."
A statement from Williamson's office said the two team members came from a more traditional political background, while she "is looking for something a bit more innovative."
Author Marianne Williamson entered the Presidential race in March. She also ran in 2020 but cut her campaign short due to lack of support. She is on the left of the Democratic party and is proud of her radical ideas.
The self-help writer said she wants a complete transformation of the American economy. She is also a strong proponent of climate change action and slavery reparations for black Americans.
Williamson was the first to challenge President Joe Biden, who she says has not done enough to change America or to improve the lives of the nation's poorest people. She was fiercely critical of her party's decision not to hold primary debates and said Democrats are acting as though Biden has no competition.
The second person to stand up to challenge the President was Robert F. Kennedy in April. Like Williamson, he wants more radical proposals for the country, but his approach is very different. Kennedy is an outspoken critic of mandatory vaccinations and lockdowns and has called for the closure of the southern border and firm action to control illegal immigration. He is banned from most major social media sites for expressing these views.
The lifelong Democrat is an environmental lawyer and a member of one of America's most famous families. He is the son of former Senator Bobby Kennedy and the nephew of assassinated US President John F. Kennedy.
Copyright 2023, StraightNews.org