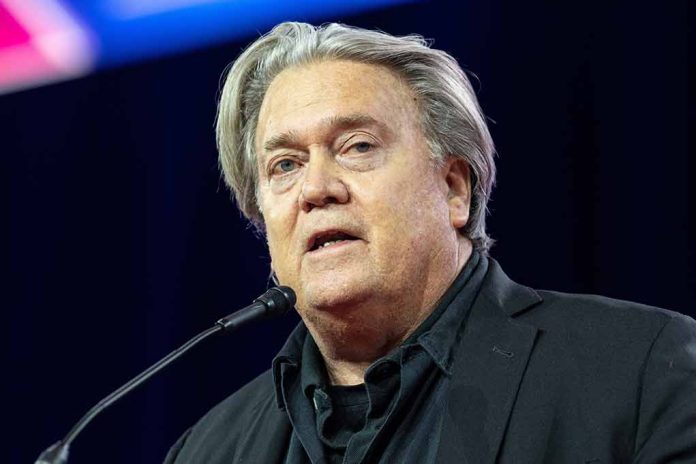 (StraightNews.org) – In an interview on "Fox News Sunday," former Attorney General William Barr told host Shannon Bream that if "even half" of the information in the Justice Department's indictment is true, Donald Trump is "toast."
Calling the indictment "very, very damning," Barr said the attempt to cast Trump as a victim of a witch hunt "is ridiculous." While Barr conceded that Trump had been a victim in the past, with his "adversaries" pursuing him "with phony claims," Trump is "not a victim here."
Barr told Bream that the former president was "totally wrong" to believe that "he had a right" to retain documents that "are among the most sensitive secrets the country has."
Barr's remarks on "Fox News Sunday" were met with sputtering outrage by podcaster Steve Bannon, Mediaite reported.
During his "War Room" podcast, Bannon attacked Barr for not going after Joe Biden, claiming that the former Attorney General should have indicted the "Biden crime family."
Bannon said if Barr is going to say that the indictment against Trump "is a great case," then he and his listeners will "shove this up your as*."
In an interview on MSNBC, attorney Robert Ray, who was part of Trump's legal team for the first impeachment, described the indictment against Trump as a "very serious case," but added that it would be up to the jury to decide if Trump should be convicted on the evidence.
The podcaster accused both Barr and Ray of being "guilty of treason" and alleged that Barr "had this information" and Bannon could prove it.
But Steve Bannon wasn't the only one enraged by Bill Barr's comments.
Sunday, in a raging post on Truth Social, Trump called Barr a "gutless pig" and claimed that the former attorney general was peddling "misinformation" about the indictment "because he hates 'TRUMP' for firing him" (Bill Barr wasn't fired; he resigned).
Trump also claimed that Barr was "deathly afraid" of getting impeached by the Democrats. He claimed that Barr "knows" that the indictment is "Bull" and urged his fans not to watch Fox News when Barr is on.
Copyright 2023, StraightNews.org