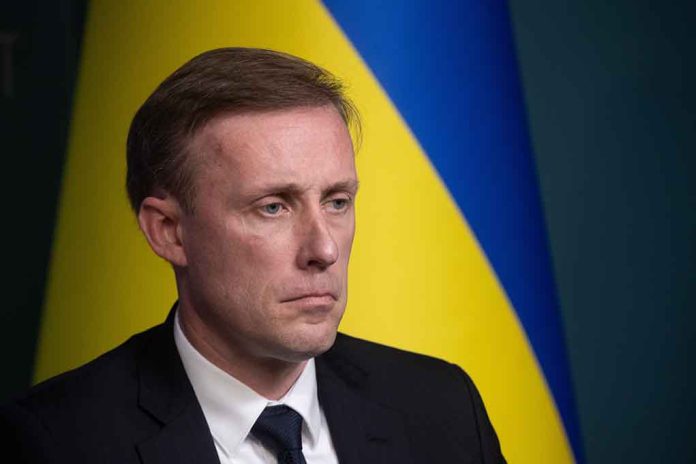 (StraightNews.org) — National Security Adviser Jake Sullivan has refused to answer questions on whether the US will help Ukraine retake Crimea from Russia. Sullivan told NBC that it would be up to Ukrainian President Volodymyr Zelensky to decide what constitutes victory in the ongoing war. When NBC's Chuck Todd pointed out that Zelensky has said the war will only end with Crimea's liberation, Sullivan avoided committing to US support on the issue, but said, "our goal is to strengthen the hands of the Ukrainians on the battlefield so that they are in the strongest position with the most leverage when they get to the negotiating table."
The Crimean Peninsula was annexed by Russia in 2014.
Meanwhile, Treasury Secretary Janet Yellen has said the US will provide $10 billion to Ukraine over the next few months. At a G20 summit in India, she said the United States is proud to support the Ukrainian battle for freedom but called on the International Monetary Fund to provide more cash. The American people however are expressing growing discontent with the amount being donated to Ukraine's war effort. A poll by NBC News in January showed 49% of Americans think the US should provide more funding and weapons, while 47% think the opposite.
A video has furthermore re-emerged showing the President promising to fund pensions in Ukraine, while the American social care system faces depletion. The remarks were made in April 2022 when Biden appealed to Congress to provide $33 billion in aid. It has since approved more than $100 billion. Ukraine's President Zelensky has warned that America must keep providing funds or it will "lose NATO." At a press conference in the Ukrainian capital, Zelensky was asked about growing concern in America about the amount being given to his war effort. He said if the aid stops, Americans will "lose NATO, they will lose the clout of the United States, they will lose the leadership position that they enjoy in the world."
Copyright 2023, StraightNews.org