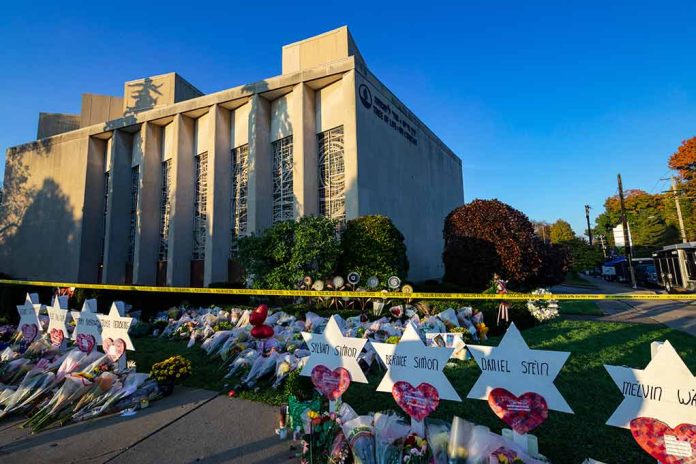 (StraightNews.org) – A Pittsburgh jury has sentenced Tree of Life killer Robert Bowers to death. The convicted murderer was responsible for the worst antisemitic attack in American history when he killed 11 worshippers at a Synagogue in Pittsburgh in 2018. Bowers was found eligible for the death penalty in court proceedings two weeks ago, and in the latest hearing, attorneys for the prosecution persuaded the jury to impose the ultimate punishment.
Prosecutors said the defendant deserved to be put to death because of the premeditated nature of the crime, the vulnerability of those he targeted, and his lack of remorse. Defense lawyers argued that their client suffered from life-long mental health problems and was delusional.
The jury delivered its verdict in favor of the prosecution and condemned Bowers to death – however, the sentence may never be carried out due to a federal moratorium on capital punishment. Bowers was charged with federal crimes because of the hate crime elements of the offense.
The horrific murders occurred on October 27, 2018. Robert Bowers walked into the Tree of Life Synagogue on the day with an AR-15 rifle and shot any person he saw. Eight men and three women, aged 54 to 97, died in the attack and several more were injured. The gunman was charged with more than 60 federal hate crimes, and prosecutors rejected a plea deal proposal put forward by the defense that the defendant would plead guilty if the death penalty was off the table.
While such violent attacks on American Jews are rare, the Anti-Defamation League, a prominent Jewish civil rights group, reported earlier this year that antisemitic incidents, including vandalism and harassment, are at their highest level since the 1970s. The organization's report on 2022 showed almost 3,700 instances of antisemitic harassment and a 69% increase in attacks on visibly Orthodox Jews since 2021. "The brazenness of these attacks, sometimes in broad daylight, is a huge concern," the report states.
Copyright 2023, StraightNews.org