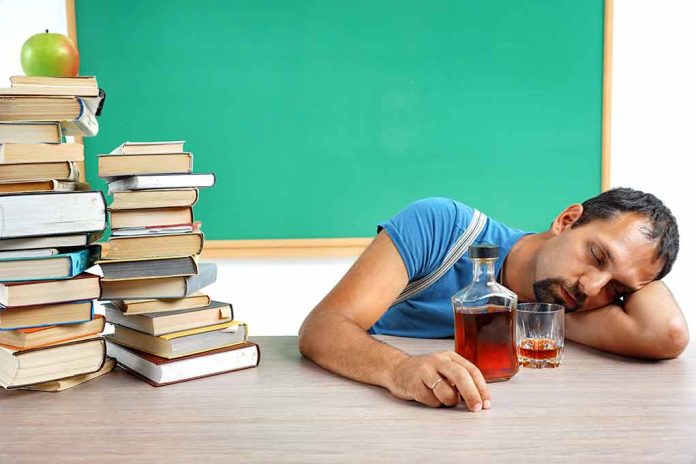 (StraightNews.org) – Sheriffs deputies arrested a teacher in California for being drunk on the job. San Bernardino deputies responded to a call from Robert O. Townsend Junior High on the morning of August 30, reporting that STEM (science, technology, engineering, mathematics) teacher Clifford Harper was intoxicated. Deputies arrived, arrested Mr. Harper, and took him to the West Valley Detention Center to face charges of public intoxication and child endangerment.
Child endangerment charges could be forthcoming partly due to the nature of the lessons Harper provides – some of which involve using woodchop machines and other potentially hazardous equipment.
One of his students said she was stunned by the news of her teacher's arrest. "That's so crazy, I did not expect that at all," said Hanna Vanpelt. Others expressed similar surprise and described the STEM teacher as "excellent" and "passionate."
It was the second time in August that an American educator was hauled out of school by cops for drinking. In Oklahoma, 53-year-old teacher Kimberly Coates was three times over the legal limit when police arrested her at Perkins-Tryon Intermediate School. Students reported Coates' "odd behavior," and Superintendent Doug Ogle found her drinking from a plastic receptacle containing wine.
Coates initially denied drinking and blamed her state of mind on the anxiety medication she was taking, but police confirmed the alcohol in her beaker and placed her under arrest. She was charged with public intoxication. Her employers gave her the option to resign rather than be fired.
According to the American Addictions Center, high percentages of teachers suffer from alcohol abuse problems. Lawyers are the most likely to drink heavily among professional groups, with as many as one in five attorneys struggling with drinking. A staggering 15.3% of doctors drink to problematic levels, and 7.4% of people who work in the financial sector. The figure for teachers is 4.7%. Construction and mining workers are at around 17%, while just over 11% of those in the arts and entertainment industry drink too much.
Copyright 2023, StraightNews.org