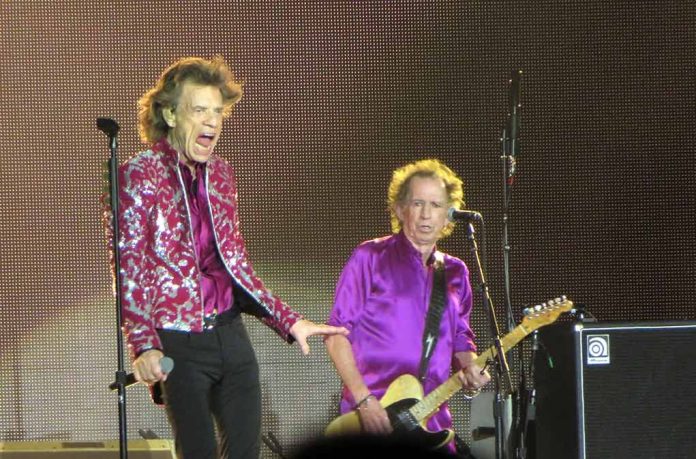 (StraightNews.org) – British rock legends The Rolling Stones have released their first album in 18 years. Mick Jagger, Keith Richards, and Ronnie Wood – the remaining members of the decades-old band – appeared on stage in London on September 6 to announce the album and perform one of its tracks.
The new record, Hackney Diamonds, will include songs of various genres, including rock ballads, dance, and a "country-ish kind of thing," said frontman Mick Jagger.
"Every day was kind of like banging through two or three songs, so you keep the excitement," Jagger added. He said the band was "pretty fired up."
Fellow musical veterans Bill Wyman, Paul McCartney, and Stevie Wonder were all involved in the production of the new record, the band said, before dedicating its release to former drummer Charlie Watts, who died in 2021.
Tributes poured in when Watts passed away at the age of 80. Elton John said he was the "most stylish of men" while Paul McCartney called him "steady as a rock." He joined The Rolling Stones in 1963 and became part of one of the most remarkable bands in history.
Initially formed in London in 1962, they would go on to sell more than 200 million records worldwide. They produced 37 top 10 albums and nine that reached the top of the charts. Billboard described the Londoners as the second most successful group of all time.
The band members are equally remarkable – lead singer Mick Jagger is 80 years old, Keith Richards is 79, and Ronnie Wood is 76. All confess to a history of heavy drinking and drug use, and in 1967, Jagger, Richards, and former member Brian Jones appeared in court on drug charges.
In 2020, then aged 76, Mick Jagger described how he keeps his health in check. "I train five or six days a week, but I don't go crazy. I alternate between gym working and dancing, then I do sprints, things like that. I'm training for stamina," he said.
Copyright 2023, StraightNews.org