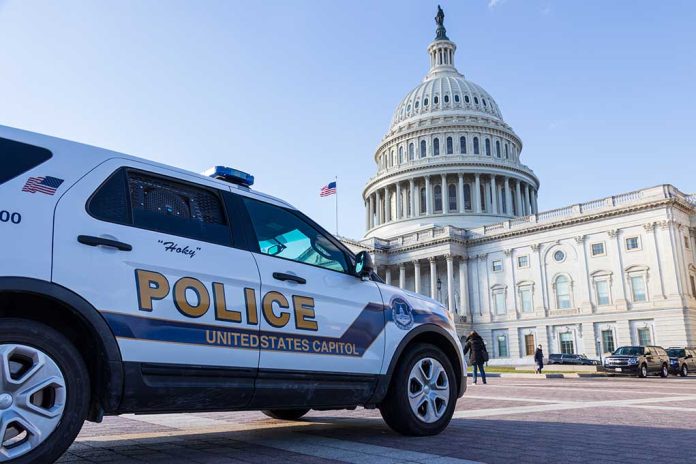 (StraightNews.org) — US Capitol police investigated 7,501 threats against members of Congress in 2022, according to a new report. The number of incidents is lower than in 2021, but remains "historically high" and is almost double the figure of 2017. Chief Tom Manger said the high number of threats was placing pressure on his officers. "This has resulted in a necessary expansion of, not only our investigative capabilities, but our protection responsibilities as well," he said.
Capitol Police, which consists of 1,966 officers and 378 civilian employees, has an annual budget of $460 million, but Manger now says it will require extra funding if its protection capabilities are to be enhanced.
High-profile cases in 2022 include an attack on the husband of former House Speaker Nancy Pelosi at their home in October. Paul Pelosi, 82, was hospitalized following a hammer attack that left him with injuries to his skull.
In July, Republican Rep. Lee Zeldin of New York was attacked while delivering a speech near Rochester when a man stormed the stage and attempted to injure him with a knife.
Several incidents also took place in 2021. The San Francisco home of Nancy Pelosi was vandalized, as was the Kentucky residence of Republican Senator Mitch McConnell.
Over the past decade, there have also been serious violent attacks against Congress members. In 2017, Republican Representative Steve Scalise was shot in the hip during a baseball practice in Virginia, and in 2011, six people were killed when a gunman opened fire on a group meeting with Democrat Representative Gabby Giffords in Arizona. Giffords was shot in the head but survived the attack. A federal judge and a 9-year-old girl were among those who died at the scene.
Dr. Mario Scalora, a consulting psychologist for Capitol Police, said the increase in threats is related to Internet use. Scalora said social media was making people feel anonymous and emboldened.
Copyright 2023, StraightNews.org