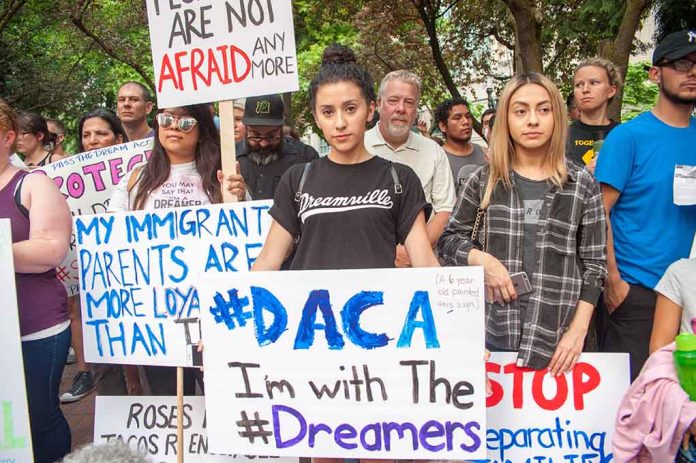 (StraightNews.org) — A plan to provide amnesty to around two million illegal immigrants may be in the works. Sens. Thom Tillis (R-NC) and Krysten Sinema (D-AZ) are working together to negotiate an agreement that would give green cards to immigrants enrolled in the Deferred Action for Childhood Arrivals (DACA) program.
Created under the Obama administration in 2012, DACA has protected young immigrants from deportation. It applies to people brought to the US illegally as children and provides them with a renewable two-year period without fear of expulsion. Under the new plan, they would receive green cards immediately, and eventually become US citizens.
It is unclear however whether the plan will have enough support in Congress to become a reality. Furthermore, one Senate aide is reported to have said there is no final agreement and a lot of details need to be worked out.
Amnesty for illegal immigrants is likely to be controversial given the vast numbers currently arriving in the US. According to Steven Kopits of Princeton Policy Advisors, around 2.3 million illegal aliens have been apprehended at the border in 2022. That figure does not include the hundreds of thousands, or potentially millions, who have managed to cross into the US successfully. Kopits predicts this figure will rise to 2.6 million next year.
RJ Hauman of the Federation for American Immigration Reform (FAIR) said an amnesty for illegal immigrants would only encourage more people to come, and exacerbate already record-breaking migration levels. "One would think that the utter disaster wrought by the Biden administration's handling of the border, and our immigration system overall, would put an end to Republicans like Senator Tillis viewing an amnesty deal as the only way forward" Hauman said.
The new plan, if it were to be enacted, would also provide an extra $25 billion for border control, and build processing centers to process migrants more efficiently.
Copyright 2022, StraightNews.org