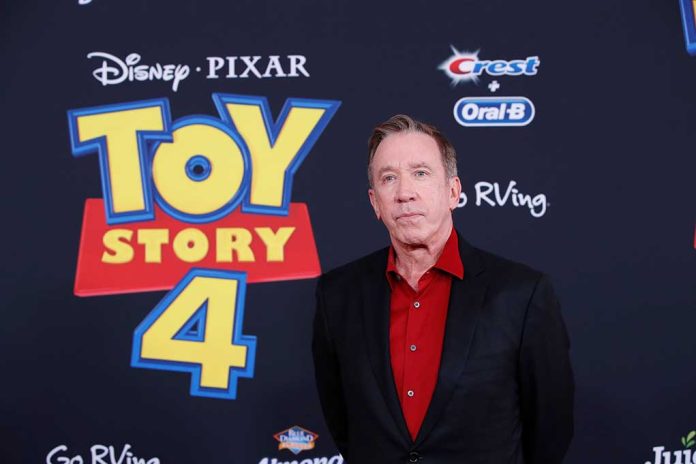 Tim Allen Denies Toy Story Rumors – Discuss Relationship With Tom Hanks
(StraightNews.org) – In 1995, families around the nation were enamored with the movie "Toy Story," which told the tale of toys that came alive when their owner wasn't around. With stars like Tom Hanks playing the beloved cowboy Woody and Tim Allen voice acting for the now-infamous character Buzz Lightyear, many children grew up with the franchise that produced four blockbusters. Now, as fans wonder if there is a fifth film in the works, Allen is denying those rumors and choosing to highlight his unique friendship with his co-star instead.
On Wednesday, November 16, Allen appeared on "The Kelly Clarkson Show" and chatted with the host about his relationship with Hanks. He said the pair go out to dinner a few times a year, and noted they often look "peculiar" when they sit on the same side of a booth, or the "Forrest Gump" star eats off his plate.
You've got a friend in me. 💙

Tim Allen and Tom Hanks, voices of the beloved "Toy Story" characters Buzz Lightyear and Woody, share a bond that goes "to infinity and beyond." https://t.co/L7kYry35CG pic.twitter.com/o4Edqlmzov

— TODAY (@TODAYshow) November 19, 2022
Allen also emphasized how the two Toy Story stars "differ on so many things" but have learned to listen to and understand each other's opinions, despite their differences. The "Home Improvement" star also said he's never "trusted a human being as much as Tom to even listen to me and vice versa."
So, while Pixar has not confirmed any truth to the rumors that a Toy Story 5 could be in the works, the friendship between these two men will likely last "to infinity and beyond!"
Copyright 2022, StraightNews.org