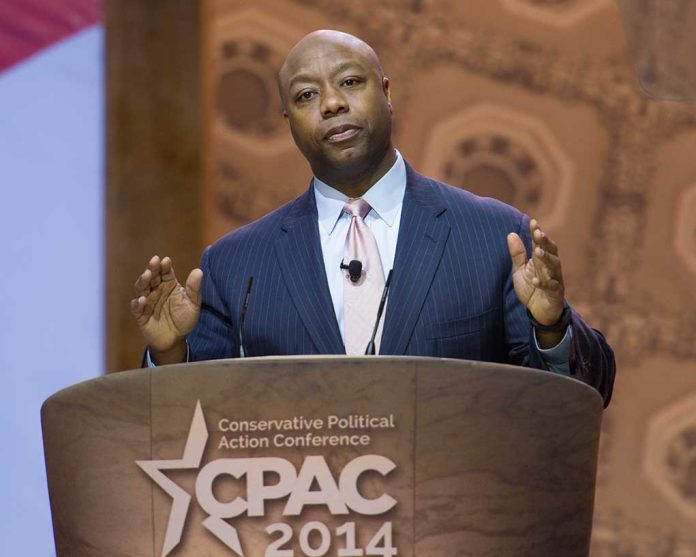 (StraightNews.org) — Senator Tim Scott (R-SC) has announced he will form a White House Exploratory Committee as part of his deliberations on running for the Presidency in 2024. In an email to his supporters, he wrote, "I've been doing a lot of thinking the past few months. I've been thinking about my faith. I've been thinking about the future of our country. And I've been thinking about the Left's plan to ruin America."
The Senator is setting out on a Faith in America tour which will begin in New Hampshire. The Opportunity Matters Fund Action PAC has already backed Mr. Scott.
Should he decide to run, he will enter a growing field of challengers taking on front-runner Donald Trump for the Republican nomination. So far, former South Carolina Governor Nikki Haley has started her campaign. Former Arkansas Governor Asa Hutchinson and entrepreneur Vivek Ramaswamy join her in the race.
Scott entered politics in 1995 when he was elected to Charleston County Council. He made headlines two years later when he proposed placing a stone copy of the Ten Commandments outside the Capitol buildings. He said it would remind people of moral absolutes.
He entered the US House of Representatives in 2010 and the Senate in 2012.
In 2021, the Republican Party chose him to provide the rebuttal to President Biden's address to Congress and he took the opportunity to state, "Hear me clearly, America is not a racist country."
A new poll featuring Senator Scott was carried out in South Carolina in response to the news he had formed an exploratory committee. The result showed him with 7% of the vote, behind Nikki Haley with 18%. Donald Trump is well in the lead in the Palmetto State with 41%, while Florida Governor Ron DeSantis, who has yet to declare his intentions, is at 20%.
As for the Democrats, self-help author Marianne Williamson has started her campaign. Robert F. Kennedy, nephew of the late President, will also run.
Copyright 2023, StraightNews.org